WE CAN TELL YOU HOW ACCURATE IT IS, BUT WE THINK YOU'D RATHER SEE FOR YOURSELF
You've no doubt heard the H3 hype by now, or to be more accurate (for lack of a better term) you've read it. Words are wonderful, but some things just need to be seen to be believed. Witness with your own two eyes what these game changing rods can do, and you too will be a believer.

No cast ever thrown is identical to any other cast ever thrown. The variables of caster, rod, and conditions are too great. Helios 3F and 3D were designed to significantly reduce the variables at the point of release focusing the energy of the cast to the intended target.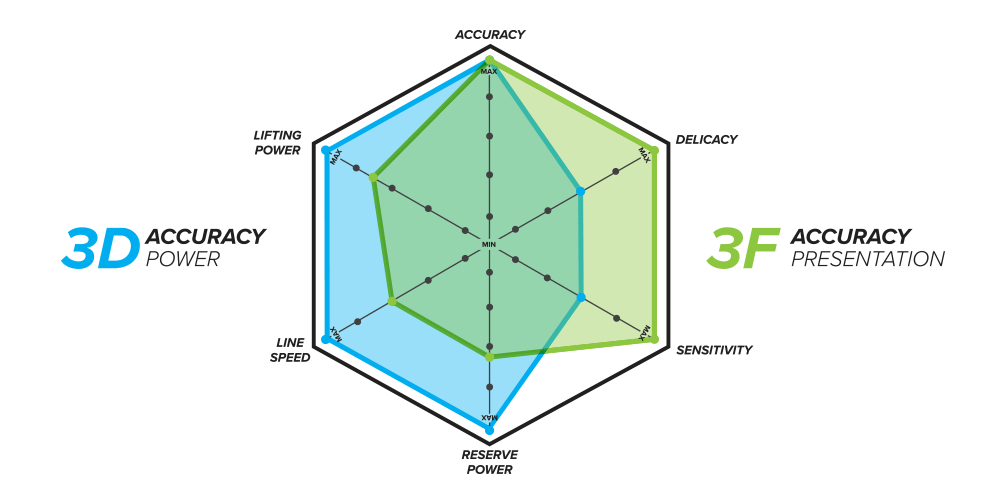 No matter what happens behind you the energy of the forward cast is crisply released through a tight window created by the most significant reduction in horizontal and vertical tip frequency ever conceived. It is a rifle in a world of muskets and it autocorrects the variables of the cast to the target with incomparable precision. (see figure 1A/1B)
This was accomplished with a strategically reinforced blank that is stronger, yet remarkably has a lighter swing weight than previous Helios rods. This increased hoop strength prevents the blank from ovalizing when flexed, (see figure 2A/2B) damping the vibration as the rod unloads and the line is released forward with significantly reduced sine waves (see figure 1A/1B) taking a truer path to the target. This increased strength also makes the Helios 3 stronger and more durable with an 85" deflection distance to breakage as compared to 54" for Helios and 72" for Helios 2. (see figure 3)