It's a funny thing trying to capture authentic stories about the people, places, and passions we care about—all while showcasing the gear and apparel we're most proud of for an upcoming season. Given lead times for printing our catalogs, we have to shoot photography months in advance of mailing dates. As a result, the weather doesn't match the projected season. This dissonance is stark when shooting our Holiday books, which happens in July and early August—not known for bare trees, snowy fields, or windblown riverbanks requiring cold weather gear.
Lots of brands go to South America to shoot in "their winter," or they go to glaciers in the Pacific Northwest and hope for sun. We've experimented with these alternatives in the past, but they never felt quite right—not authentic to us, not representative of what we care about most, which is developing relationships with people who share our love of fly fishing, hunting, dogs, off-the-beaten-path travel, and celebrating these passions with great food & warm campfires.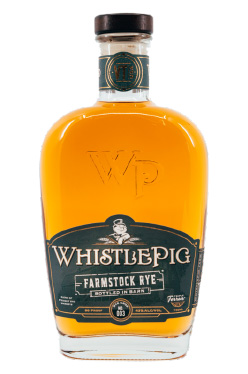 Respect tradition. Embrace progress. There's a lot to learn from the past. But Whistlepig believes the best era for Rye Whiskey is in front of us. They are constantly pushing to try new things and to unlock the potential of Rye, protecting what makes it great, tossing out the rest, and then innovating to make it better.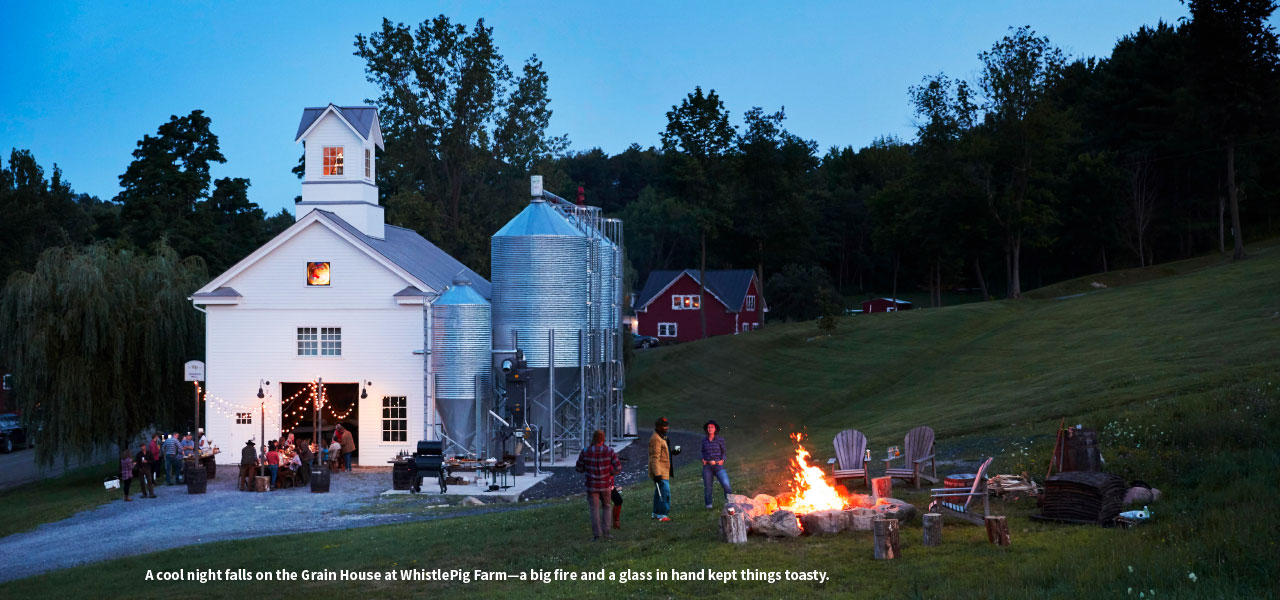 So, this year, we didn't fake the experience. Instead, we accepted a kind invitation from our friends at WhistlePig Whiskey to visit their property, where they've been transforming a 150-year old dairy into a grain-to-glass distillery—that and leading the rye-whiskey renaissance by producing and blending some of the best rye since Prohibition. We wanted to celebrate the upcoming season with them and some talented friends of Orvis, who traveled from Montana to help us put on a meal none of us will forget.
Cresting a hill overlooking the Lemon Fair River in Shoreham, VT, the farm is 500 acres of rye grain, fallow fields, sugar maples and oak trees that are cut down for aging barrels. The sugar maples are tapped every year for WhistlePig's signature maple syrup aged in retired whiskey barrels. The rye is harvested, fermented, and distilled on-site, and bottled for their "Farmstock" whiskey. It's also used in some of the specially finished blends that have been winning major awards for the last decade or so.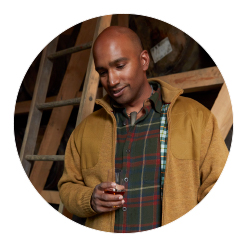 Ranga Perera
Chef, Outdoorsman, Fly Fisherman, and owner of Laurian's Table
Born in Sri Lanka, Ranga Perera spent his tiny-tot years following his Grandma Eva around her kitchen, watching and absorbing her culinary gifts. His family relocated to Oman, then to England, and eventually settled in Southern California. Ranga's love for outdoor cooking, worldly flavors, locally foraged and sourced foods accomplishes an unrequited alchemy. And when collaborating, Ranga and Eduardo love nothing more than a day of fishing, foraging, and laughing, while sipping a tasty cocktail—or two—and cooking up a delicious stream-side feast.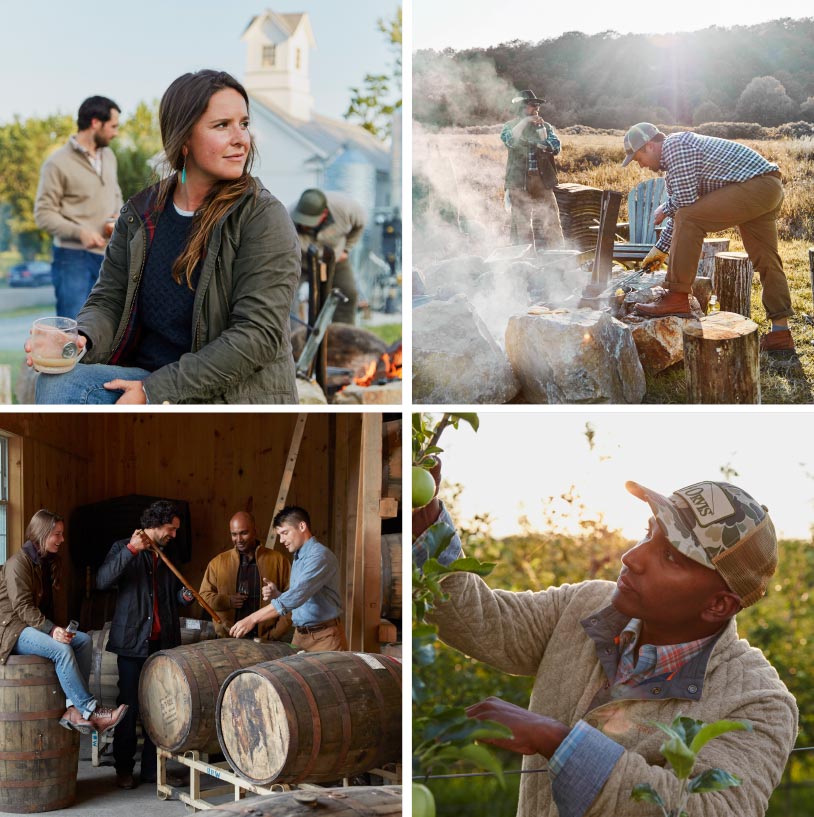 Co-founded by the late great Dave Pickerell, a legendary master distiller credited with the success of Maker's Mark, WhistlePig uses their foundation in traditional craft to innovate into the future with blending and finishing techniques that bring amazing flavor and complexity to a liquor historically thought of as harsh and unrefined. What we also love about WhistlePig is their dedication to improving their land from practicing free-range animal husbandry & crop rotation to preserving water quality in the stream-shed. They filter wastewater from the distilling process through digesters that clean and cool the water before it's absorbed into the ground. Finally, left-over grain mash is either composted on the farm or given to nearby farmers to help feed their stock.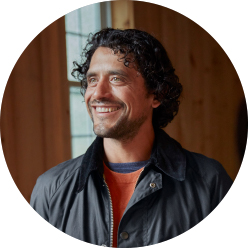 Eduardo Garcia
Chef, Outdoorsman, Athlete, and owner of Montana Mex
"A meal is more than just what we eat but an integral part of what builds culture and brings people together," said Eduardo, who is known for amazing flavors cooked over an open flame. The film Charged, an award-winning documentary about a tragic incident that left him fighting for his life in the Montana wilderness, speaks to his tenacity. "This event wasn't a setback, it was a kick in the ass," said Eduardo, who now works with the Challenged Athletes Foundation.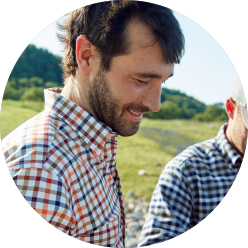 Charley Perkins
Fly Fisherman, Hunter, Skier, Brand Marketing Manager and co-owner of Orvis
Charley Perkins grew up in the family that's steered Orvis since the early 60's. So, it's no surprise that hunting, fishing, and conservation are a major part of his life. As much as Charley likes to spend time on the water and in the field, his favorite part of it all is when he is cooking game and sharing it with friends and family. And take it from us, his spit-roasted goose was worth the wait!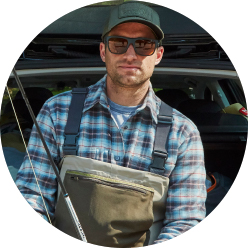 Kolton Niesen
Fly fisherman, Hunter, Skier, Chef and co-owner of Crooked Ram
Hailing from Michigan where he grew up fishing and hunting, Kolton Niesen is the chef at Crooked Ram in our hometown of Manchester, VT. In addition to some of the best eats in town, the shop has the widest curation of specialty beer and natural wines in the region. Since graduating from the New England Culinary School, Kolton has worked in notable restaurants from the mountains of Colorado to the South Island of New Zealand.
The party, made up of Orvis folks, the team at WhistlePig, and some guest-star chefs and outdoors-people we've become friends with over the years, got together for a couple days of photography, food prep, fishing, and one beautiful night of feasting and toasting around the table and the fire. We hope the spirit of the coming season brings as much joy to your life as it does to ours. Here's to ending the year with good friends, our dogs, amazing food, tasty drinks, and a big dose of generosity.