Krka River Lodge
Orvis Endorsed Fly-Fishing Lodge located in Krka, Slovenia, just a thirty-minute drive from Ljubljana, Slovenia.
Krka River Lodge
Orvis Endorsed Fly-Fishing Lodge located in Krka, Slovenia, just a thirty-minute drive from Ljubljana, Slovenia.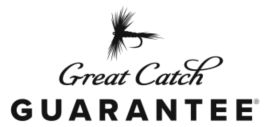 100% customer satisfaction has been our commitment since 1856. It's who we are. If you aren't happy with a product or service, we want to know about it. And we'll make it right.
THAT'S THE ORVIS WAY.
Returns & Exchanges
Customer Service FAQ
Free Standard Shipping on orders of $50 or more!
Free Standard Shipping is valid on orders of $50 or more after promotions and discounts are applied. Shipping applies to standard shipping to a single address in the United States only. Not valid on oversized or special-delivery items.
Have Questions? 
Live Chat is Available
Riverside Lodging - The Krka River Lodge is nestled on the banks of the Krka River, surrounded by charming hills. It lies near the source of the Krka River, which puts us right on one of the best chalk streams in the world! Hungry large browns and rainbows await you here! The lodge's ten rooms are bright and comfortable, all with private restrooms and views of our village and river. Each room Includes a coffee/tea maker, free Wi-Fi, housekeeping, desk, and heating. Accommodations come with a buffet breakfast, free parking, and laundry service. The lodge's bar has an impressive stock of local wine, beer, and žganje (Slovenian brandy), and a wonderful terrace that overlooks the Krka River and our village. For itineraries with overnight excursions from the lodge, you will stay in our partner's charming accommodations that are convenient to fishing as well as to Slovenia's excellent food and culture.
The Krka River Lodge offers outstanding fly-fishing experiences on the world-class waters of the Republic of Slovenia.
Excellent Places to Fish - Limestone streams and alpine rivers–a large variety of highly dependable waters that are close together. We'll get you on the fish.
Great Fish to Catch - Marble trout, Slovenian grayling, huge browns, and huchen … all waiting for you!
European Food, Wine, and Culture - You will be hard-pressed to find a better combination of these to match your fishing interests – only quality here.
Fish a Different River Every Day - There are many pristine rivers with a variety of fish, for a variety of skill levels all within an hour-and-a-half of Krka River Lodge. Our package adventure starts at the waters in and around Krka before heading to other locations, such as the spectacular Soca Valley where we'll fish for marble trout in a breathtaking alpine valley setting.
How will I be taken care of?
Krka River Lodge will have a host with you providing logistics and general support during the trip. We will take care of getting the things you have forgotten or otherwise decide that you need, get your laundry done, get those shoes you left at the last hotel – you get the picture…
What is included in package itineraries?
Inclusions: All meals. Breakfasts are at the lodging accommodations, lunches will be either brown bag or at a local establishment and dinners will be at different locations each night. All non-alcoholic beverages. Package itinerary customers have access to the lodge's open bar. Overnight accommodations as described. All fishing with guides (2 to 1).
Exclusions: Meals before arrival in Slovenia and after departure. Gratuities. Items of a personal nature (phone calls, excess baggage charges, etc.). Any airfare. Any other unplanned expense.
Can I get a refund on the taxes for items that I purchase in Slovenia?
Slovenia, Italy, and most other European countries allow you to recover VAT (sales tax) when you "export" an item. But you must prove that the goods actually left the taxing authority before collecting your refund. Here is a good article to help you understand: https://taxation-customs.ec.europa.eu/guide-vat-refund-visitors-eu_en
What kind of insurance should I have to come to Slovenia?
For our package customers, we require proof of health insurance that is valid in Slovenia. While healthcare is excellent in Slovenia, we also recommend evacuation insurance. It's relatively inexpensive and you are likely to not need it. https://www.internationalsos.com/personal-travel http://www.nbcnews.com/storyline/ebola-virus-outbreak/evaluating-risk-do-travelers-need-medical-evacuation-insurance-n170976
What should I pack?
Since we'll be moving a couple of times, it's best to pack as efficiently as possible. A good planning figure is for 50 pounds of luggage, including all of your rods, reels, etc. Since there is daily laundry service available, you will only need 2-3 sets of fishing clothes (but plenty of socks!).
What is the situation with electricity in Slovenia?
Slovenia's electrical standard is 230 volts / 50 Hz. Electrical outlets have an opening for 2 tubular pins, not flat prongs, so be sure you have an adapter that's compatible before travel. Most modern electronic devices (including your laptop and phone charger) are capable of 220v or 110v, but you will still need the adapter plug. Be sure to verify this prior to using the 220v outlet!!! Please see this link for more information: https://www.power-plugs-sockets.com/us/slovenia/ Slovenia takes Type C and Type F plugs on this chart.
What language is spoken in Slovenia? Can I just speak English?
Our guides and staff are all fluent in English, and usually another language like German, Italian, and Serbian. Slovenian is the official language of Slovenia – it is a Slavic language related to Russian, Serbian, Polish & Czech. English is commonly spoken, particularly by those under 55 years old. A few phrases will be useful for you. In our experience, the locals always appreciate it when you try to speak their language (no matter how poorly you do so).
Hello. Živijo. (ZHEEVEE-oh)
Thank you. Hvala. (HVAH-lah)
Goodbye. Nasvidenje. (NAHS-vee-dehn-yeh)
Where is the toilet? Kje je stranišče? (kyeh yeh strah-NEESH-cheh)
https://www.myguideslovenia.com/usefulinfo/slovenian-language-basics
What is the time difference between Slovenia and the US?
Slovenia is six hours later than Manchester, Vermont.
https://www.timeanddate.com/worldclock/slovenia/ljubljana
What is the health situation in Slovenia?
Slovenia does have mosquitos; bug spray might be needed in certain locations. Flies and other bugs may be annoying but pose little danger. The alpine sun can be a factor, so sunscreen should be worn.
bvseo_sdk, dw_cartridge, 21.1.0, p_sdk_3.2.0
CLOUD, getReviews, 0ms
reviews, product
bvseo-msg: SEO SDK is disabled. Enable by setting seo.sdk.enabled to true. SEO SDK is disabled. Enable by setting seo.sdk.enabled to true.