SALVELINUS, Spain
2018 Orvis-Endorsed International Destination of the Year in the Pyrenees, Spain
SALVELINUS, Spain
2018 Orvis-Endorsed International Destination of the Year in the Pyrenees, Spain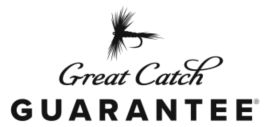 100% customer satisfaction has been our commitment since 1856. It's who we are. If you aren't happy with a product or service, we want to know about it. And we'll make it right.
THAT'S THE ORVIS WAY.
Returns & Exchanges
Customer Service FAQ
Free Standard Shipping on orders of $50 or more!
Free Standard Shipping is valid on orders of $50 or more after promotions and discounts are applied. Shipping applies to standard shipping to a single address in the United States only. Not valid on oversized or special-delivery items.
Have Questions? 
Live Chat is Available
Jeremy Kehrein
Salvelinus Lodges
1-800-547-4322
Mon-Fri, 9am - 5pm (ET)
orvistravel@orvis.com
salvelinus.com
2018 Orvis International Destination of the Year
Spain's pioneer fly fishing and guiding company
Bespoke small-group departures by Ivan Tarin
Fully customized and diverse itineraries
Enjoy real life in the Pyrenees from tiny mountain villages
Dine in a 300-year-old traditional family restaurant
Limited to 6 anglers plus travel companions per tour
The Fishing:
A little-known fly-fishing playground with 1500+ miles of trout waters along 14 main valleys, 60 tributaries, 2500+ alpine lakes, 3 National Parks, and over 20 Nature Reserves. The Pyrenees rise from 600 to 7500 feet above sea level, creating unlimited scenarios that make quality fly fishing possible most of the year for a variety of species. Pyrenean rivers are 12 mi. to 125 mi. long, with each section being entirely different. This vast spectrum of waters in this incredible territory include: small mountain streams, spring creeks, and pristine lakes in the High Pyrenees; and freestone wider rivers, reservoirs, and tailwater fisheries in the Lowlands. The gin clear waters here are great for wading upstream, looking for trout with dries and droppers, as well as nymphs and streamers. Every pool and every current have their own personalities. Every feeding location and every lie are distinctive. Salvelinus knows them all.
Non-Angling Activities:
The Spanish Pyrenees are home to some of the most beautiful villages and breathtaking countryside we've ever seen. In the company of local, expert guides, you'll discover Romanesque villages and an ancient stone monastery dating back to the Middle Ages. Take time to absorb the incredible scenery and learn about the history of the region on easy-going hikes in an impressive gorge and National Parks. No visit to the Pyrenees would be complete without visiting a vineyard; we'll take you to one of the region's finest organic wineries to sample the local wines followed by a barbeque lunch.
Cultural and Historical Tours: UNESCO sites, ancient villages & monasteries
Food & Wine Tours: private visits and tasting sessions in secluded wineries and restaurants
Nature walks, easy going hikes, and boat tours into Nature Parks
Wellness therapies, massages and Spa at the lodges
Vegan Cooking classes & traditional meals
Hiking in National Parks, & kayaking in remote waters
Photo Tours: Wildlife, Nature and Culture. Birdwatching into a hide network
Both lodges have stunning mountain village location and both are rich in medieval history. Their only unique rule is: "make yourself at home." Good food and wine are clearly a passion here: the meals are typical of Northern Spain origin and they are accompanied by an impressive selection of wines from the Spain's best wineries.
Santa Cilia Lodge & Meals
The base for SALVELINUS – West is a cozy fly-fishing lodge that offers access to many freestone rivers with native Mediterranean brown trout, national parks, and ancient villages. The lodge has 4 country-style rooms, each with views of the Aragón River in front. There is a dining room converted from an old stable, a terrace by the river, a wader room, a fly shop, as well as a massage room. The old winepress building, once used by the monks of the Monastery of San Juan de la Peña 500 years ago, is now a bar-lounge where Salvelinus guests swap stories at the end of each day over a glass of wine, anticipating for the day ahead.
You will dine on mouth-watering Mediterranean and Spanish cuisine in the recently-restored 15th-century dining room. Using fresh, local produce, the menu at the lodge is second to none. Appetizers, wine, cava, and cocktails are served at the terrace of the lodge right before dinner.
Arén Lodge & Meals
The base for SALVELINUS – East is surrounded by the wilderness, presents a glorious setting for a fly-fishing expedition as it allows access to a variety of water formations, national parks, cultural landmarks, and mountain villages. This is no traditional fishing lodge, but an intimate, accommodation nested in the 10th-century medieval village of Arén. The venue has 6 restored double-bed bedrooms plus 2 comfortable suites on the first and second floors. On the ground floor, there is a spa and wellness center (massage room, sauna, jacuzzi, gym), a heated wader room, and an in-house fly shop.
Meals are served at the nearby hotel restaurant, which is recognized as one of the most authentic hotspots in the region. The menu features local, organic ingredients that is anything but ordinary. The owner, Juan Antonio, and his family have been running the restaurant since 1715, and their attention to culinary detail is deliciously evident.
Signature Hotels & Meals
Salvelinus has done its research beyond the Pyrenees in order to include a selection of top-quality accommodations spanning across Northern Spain. These hotels not only allow quick access to the premium fisheries nearby, but also to some of the best wine regions in Spain.
The signature hotels Salvelinus works with are well renowned for their culinary tradition and quality. The Ultimate Pyrenees departures include gastronomic experiences and private wine tours for 2 or more days per itinerary if desired. If not, these days can be replaced with guided fly fishing.
All Inclusive Rates. Prices per person, double occupancy, shared guide. Children under 18, 50% off.
Risk Free Reservation Guarantee: No penalty for pandemic-related cancellations.
Additional options and combinations are available by request. More information and packages at: www.salvelinus.com
Salvelinus Pyrenees Sampler from March 1st to November 30th

Nights

Guided Days

Price/Person

6 Nights

5 fishing days / guided activities

$7,750 Shared room & Shared guide
Helicopter Fly-Outs
From May to October. $1,800 / Round trip. Valid for 2-3 passengers
Pyrenees Trout & Adventure Tours
8 to 14-day itineraries limited to small group departures

Nights

Guided Days

Price/Person

8 Nights

7-day guided fishing/activities

$10,900 Shared Room & Shared Guide

10 Nights

12 Nights

9-day guided fishing/activities

11-day guided fishing/activities

$13,600 Shared Room & Shared Guide

$16,300 Shared Room & Shared Guide

Private Guide & Single Room - An angler sharing a room with someone on the multi-activity program is expected to pay for his/her private fishing guide supplement.

A guest on fly-fishing program under a shared guide wishes to take part in non-angling programs, is expected to pay for an additional private guide supplement. If you are traveling alone, you must pay for the private guide and single room supplements.

Private Fishing or Activity Guide - $450 per day / Single Room - $250 per night*

* All guided fly fishing, multi activity programs and supplements must be pre booked and paid when you confirm your reservation

2023

2024

March 16th-24th SOLD OUT

March 12th-20th

April 26th-May 6th

April 2nd-12th

June 18th-28th

June 4th-14th SOLD OUT

July 13th-21st ORVIS WEEK

September 16th-26th

September 21st-29th SOLD OUT

Nov. 9th-17th ORVIS WEEK
All Inclusive
WITH NO HIDDEN EXPENSES
White-globe service by Salvelinus team Accommodation at Salvelinus lodges and signature hotels with all meals and drinks Barcelona Airport Transfers Guided Fly Fishing on exclusive waters.
Two anglers per guide Guided Activities: culture, flora & fauna, sightseeing-adventures, national parks, food & wine tours, and limited spa treatments All Gear: Waders, boots, rods, reels, & flies
Licenses and daily permits for club waters Laundry service: Once per week
Season:
March 1 - November 30
SPRING March - April - May | Avg. Temperature: 45 – 74 F
Optimal water levels, great weather conditions and hatches at different elevations
SUMMER: June - July - August | 60 – 90 F (Low country), 42 – 82 F (High country)
Prime conditions for dry fly fishing in the mountain freestones and alpine lakes
FALL: September – October - November | Avg. Temperature: 43 – 80 F
A great time to fly fish with comfortable weather until late November
Region/Terrain
Among the green valleys on the Southern face of the Pyrenees in Northern Spain, verdant forests of pine and oak grow on the shores of sparkling rivers and alpine lakes. Salvelinus showcases a side of Spain that eludes most, capturing the imagination and the hearts of all who journey here. A place of storybook villages and vibrant landscapes with a rich cultural and nature heritage.
Species:
Brown Trout – The predominant and native species in the area
Rainbow Trout –Trophy specimens inhabit some of the rivers
Iberian Barbel – Great fighters also known as the golden bones
Brook Trout – Inhabit some remote creeks and lakes
What to Bring?
Salvelinus provides ALL waders, boots, premium rods & reels, and all necessary flies, and terminal tackle.
A 4-weight and a 6-weight rod
Boots with studded rubber soles
Multi-layered and multi-seasonal clothing
Light and heavy socks plus polar pants for wading
Polarized sunglasses, sunscreen and buff
A full list will be provided at time of reservation
What is Included?
Full board accommodation in Salvelinus lodges or hotels according to itinerary
All meals and beverages: buffet breakfast; lunch by the river or at the lodge, appetizer and dinner; tasting menus; tapas. Spanish wines, coffee, beer, spirits and soft drinks
Internet access, daily housekeeping, and midweek laundry services
All ground transfers in itinerary, included from/to Barcelona Airport to/from lodge
Angling packages include:
Guided fly fishing. Two anglers per English speaking Salvelinus guide
All gear: waders, boots, rods, reels, flies & accessories, if necessary
Fishing regional licenses and personal daily permits for club waters
On the water instruction and casting clinics, available upon request
Multi Activity packages include:
Fully customized guided tours with pro experts and guides:
Cultural visits to historical sites
UNESCO heritage and National Parks
Private food and wine tours
Easy walks, hiking and kayaking
Wellness therapies and Spa
Photo tours and birdwatching
Vegan Cooking classes
Not Included:
Flight tickets, travel insurance and gratuities
What is Provided:
This operation is an ideal destination for those new to trout fishing looking for a week of detailed, on-water instruction with one of the Salvelinus instructors who have been running schools for many years. Fly casting lessons in English are also available and can be included, if desired. More information about fly fishing schools and personal clinics at: www.salvelinus.com
What is the wading like?
The variety of scenarios provides different wading options from semi-flat riverbeds that allow easy wading to slippery freestones that are fully manageable with studded boots. Technical wading is not required.
How to arrive?
The lodges are located about three hours driving from Barcelona International Airport. All Salvelinus programs include ground transfers from/to Barcelona to/from lodge.
Reservations, Deposits & Payments
The deposit is 50% of the trip price unless stated differently in the trip proposal and materials (trip planner and confirmation email). In some cases, deposits are non-refundable, this depends on the destination and will be clearly noted in the trip proposal and materials as well. Deposits may be made by check or credit card: Visa, MasterCard, American Express or Discover Card. The balance of the trip cost is due 90 days before departure, except where specified differently on individual itineraries. The balance will be charged automatically to the credit card used for the deposit, unless otherwise specified. Any changes made to the method of payment after the final balance has been collected are subject to processing fees.
A reservation form and release are required prior to departure.
All prices must be paid in U.S. dollars. Deposits are not transferable from one trip to another.
Prices quoted are based on foreign exchange values and tariffs currently in effect and prices are subject to change. Orvis Adventures reserves the right to adjust prices accordingly until the time of departure.
Planning information
When your reservation is confirmed, you will receive planning information to guide you through trip preparations. Details about arrival and departure, clothing and equipment, trip cancellation insurance, pre- and post- trip extensions, visas and documents and activities are included in the planning information.
Cancellation and Refund Policy
Although cancellation fees may be higher for some trips (stated in the trip proposal and materials), the following minimum cancellation fees will apply:
| | |
| --- | --- |
| Days Prior to Trip | Fee |
| + 90 days | $300 per person |
| 89 days or less | 100% of cost |
For trips that include an Orvis gift card or Orvis merchandise, the retail value of the gift card or merchandise is non-refundable upon delivery. Cancellation fees cannot be waived for any reason, including health, business or personal emergencies, or weather.
We strongly urge you to purchase trip cancellation insurance.
No refunds will be made for unused portions of a trip, including late arrival or early departure. Guide fees and hotel costs are not refundable if unused as outlined in the itinerary. Orvis reserves the right to modify an itinerary due to circumstances beyond our control. In the unlikely event that Orvis must cancel a tour, all payments received to date will be refunded, which constitutes a full settlement.
Orvis is not responsible for expenses incurred in preparation of any canceled trip, including airline tickets and visas fees.
Cancellation Insurance
Your planning information includes information for travel insurance covering cancel for any reason, cancellation for medical reasons, trip delay, medical expenses, lost baggage and medical evacuation. We urge you to obtain this coverage.
Share policies
Trip prices are based on double occupancy. Single rooms & cabins are limited. If you request a single room, a single supplement will apply as noted in the itinerary. We will confirm the single room as early as possible, but in some cases it may not be earlier than 30 days prior to the trip. If you request a roommate, we can usually pair you with another guest of the same gender, and no single supplement will apply. If you request a roommate, and one is not available, we will only charge you the single supplement if required by the lodge or facility used in the trip.
Children under 18 must share a room with a parent or other family member. In some cases this may be waived.
Passports and documents
International trips require a passport. Check your passport early and make sure it has six months validity at the time of travel. A visa is needed in some countries and we will send you complete details and instructions.
Arrival and Departure
Group transfers from a central location such as an airport are described in the itinerary, and are included in the land cost.. Transfers are not included in the land cost if you arrive early or leave after the scheduled departure day.
Equipment & Clothing
You will receive a detailed list of appropriate gear with your trip planning information.
Airline reservations
The land cost of your trip does not include airfare.
Limitation of liability
This section defines Orvis Travel's responsibility with regard to all travel arrangements made by Orvis Travel, including individual travel and pre- and post- trip extensions. Please read it carefully.
Upon sending your deposit to Orvis Travel, you acknowledge that you have read and understand all the terms and conditions outlined here, and agree to be bound by them.
All trips that involve outdoor sporting activities such as shooting or fishing, or travel through remote places by vehicle, boat, small plane or on foot, put you at risk for accidents and serious injuries in the normal course of the activity. That is the nature of travel to such destinations and you acknowledge that you accept these hazards as a condition of participation.
Orvis Travel, its Owners, Employees, Associates and Agents give notice that they act only as the agent for the owners, contractors and suppliers providing means of transportation and/or other services and assume no responsibility howsoever caused for injury, loss or damage to person or property in connection with any service resulting directly from: acts of God, detention, annoyance, delays, expenses arising from quarantine, strikes, thefts, pilferage, force majeure, failure of any means of conveyance to arrive or depart as scheduled, civil disturbances, terrorism, government restrictions or regulations, and discrepancies or changes in transit or hotel services over which it has no control. Reasonable changes in the itinerary may be made where deemed advisable for the comfort and well-being of the passengers.
Baggage and personal effects, including items purchased, guns, fishing equipment or sporting goods are the sole responsibility of the owners at all times and no employee/agent of Orvis Travel, its subsidiaries, affiliated or associated companies is authorized to accept these for storage, safekeeping, or transportation.
bvseo_sdk, dw_cartridge, 21.1.0, p_sdk_3.2.0
CLOUD, getReviews, 0ms
reviews, product
bvseo-msg: SEO SDK is disabled. Enable by setting seo.sdk.enabled to true. SEO SDK is disabled. Enable by setting seo.sdk.enabled to true.