Bristol Bay Lodge, AK
Orvis-Endorsed Fly-Fishing Lodge in Bristol Bay, Alaska
100% Customer Satisfaction
has been our commitment since 1856. It's who we are. If you aren't happy with a product or service, we want to know about it. And we'll make it right. That's the Orvis Way.
Steve Laurent
Bristol Bay Lodge
509-964-2094
907-743-0326 (Summer)
slaurent@bristolbaylodge.com
bristolbaylodge.com
Orvis is pleased to offer our travel customers access to two valuable services: Global Rescue travel membership and IMG Signature Travel Insurance℠.
Learn More
The Lodge & Fly Shop:
Catering to up to 26 guests per week who desire the finest freshwater angling available, the lodge's well-appointed facility offers casually elegant wilderness living filled with creature comforts and an atmosphere of camaraderie. The main lodge houses our completely equipped professional kitchen, the dining room, our large living room with bar area, the library and a huge fly tying bench laden with everything one needs to tie quality flies suited to the surrounding rivers. The famous see-through fireplace is fronted by a panoramic view of Lake Aleknagik.
We have eight bedrooms in the main lodge as well as a fully equipped fly and tackle shop. Our guests can arrive with nothing but a waterproof jacket and be fully outfitted. In warm weather the lodge's decks are the favorite gathering places for appetizers, cocktails and weekly barbecues. The hot tub and sauna get lots of use after fishing – relaxing sore muscles. Set around the lodge, but private in every regard, are four cedar cabins, often used for small groups or families. Each cabin is different offering its own character, yet all offer scenic views of Lake Aleknagik, slightly fragrant with the scent of cedar as you would expect of true wilderness cabins.
Both camps have fixed beds with fresh linens warm full sized sleeping bags, fleece liners, heaters, running water, and full service lavatory. Each camp also has three guests tents that accommodate two fishermen per tent, as well as a main cook tent that is used for serving breakfast and dinner plus a central meeting place for sharing fishing stories, often filled the scene of laughter well into the night. Both camps are staffed with two experienced guides as well as a camp chef to take care of all of your needs.
Sample of Typical Trip:
After spending an evening at the lodge, you will depart for one of two fishing destinations that will later involve an overnight experience at one of BBL's two outpost camps. Spending the first day fishing one location, you will then be transferred by plane to either Birch or Rainbo Camp. Planes and passengers depart the lodge at 7:45 am to either the Togiak or Kemuk for the day. Between 4 and 4:30 pm (pilots will determine exact departure time) guests will be transferred to one of the overnight outpost camps. Upon arrival at Birch or Rainbo Camp, you will be greeted by a permanent staff consisting of two guides and a cook who will offer you a light snack and beverages. Dinner is typically served at 7 pm, allowing for several hours of fishing time before dinner if you are so inclined. After a meal served in the dining tent, guests can enjoy some time to relax or make a few last casts on the river that runs only yards in front of camp.
What is Provided to Customer:
Bristol Bay Lodge Package includes:
Fishing license and King Stamp
Fly-outs from lodge
US Coast Guard and ADF&G licensed guide
After dinner fishing (daylight permitting)
all necessary lines and lures
all waders, boots, rods and reels
professional vacuum sealing and preparation of salmon for shipping home
Airline approved wet-lock fish box
Meals beverages
Round trip travel from Anchorage to Dillingham
Items not included:
Purchases from Gift Shop
Gratuities for staff
What Should Customers Bring:
PRE-TRIP CHECKLIST
Important Personal Items/Clothing/Miscellaneous
Airline tickets
Trip itinerary with contact numbers, important personal contacts and phone numbers.
Medications
Cash
Traveler's checks, credit cards, checkbook — it is wise to carry as few credit cards or personal blank checks with you as possible. Take only those you know you will need.
Shoes — comfortable waterproof boots (muddy conditions can exist around camp). We recommend wearing rubber-soled boots on the days you fly to/from the lodge to accommodate the notoriously muddy parking lots in Dillingham and to comfortably negotiate getting aboard the boats and float planes.
Slacks/pants — 2 or 3 pairs
Heavy-weight wool or poly-blend socks
Light/mid-weight long underwear tops and bottoms — at least two pairs polypropylene or capilene
Long-sleeved shirts
Sweater and/or pullover
Raingear (high quality!)
Fishing hat — bring two, one for warmer days and one with ear flaps
Neoprene or knitted wool fingerless fishing gloves
Wading boots — felt-soled but no cleats! (comfort and ankle support key considerations)
Waders — breathable stocking-foot models
Waterproof gear bag
Sunscreen
Insect repellentBenadryl or calamine lotion
Small first-aid kit
Camera — waterproof bag, camera body/lens/film, polarizing filter, lens tissue and cleaner, flash attachment; start with fresh batteries and take an extra set.
Flashlight (if traveling in September)
Batteries
FOR FLY FISHERMEN ONLY

Rods and reels — A stiff/fast action, 9-foot, 5- or 6-weight rod matched with a fly reel capable of holding at least 150 yards of backing for trout, grayling and char. For salmon, a 9-foot, 7- or 8-weight rod matched with a reel holding at least 200-yards of backing. "King" fishermen should bring a 9-foot, 9-weight rod matched with a reel holding at least 250 yards of backing.

Fly lines — Weight-forward full floating lines are recommended for trout, char, and grayling fishing. Should you wish to buy sink-tip lines prior to your trip, make sure to consult us for water condition specifics.

Flies — We recommend that you buy flies at camp if possible.

Leader material — Leaders and tippet should be purchased at the lodge

Reel covers — reels can get banged up in transport

Forceps

Fly-tying equipment — We have a fully equipped tying bench available.

Split shot or lead putty
Species You Fish For By Season:
The fish runs begin at Bristol Bay Lodge after ice-out in mid-May, and excellent fishing is possible until ice fills your rod guides in late October. The resident freshwater fish, rainbow trout, arctic char, dolly varden, lake trout and northern pike -- are available all season long. The salmon return to the rivers of their birth to spawn and die at varying times during the summer beginning with the chinook (king) and the chum (dog) in June, the sockeye (red) and the pink (humpy) in July, and the coho (silver) in August. The anadromous dolly varden run in our rivers in June, July, August and September. Twelve species of fish either inhabit the waters or return here to spawn, making the Wood-TikChik/Togiak area a true angler's paradise with good, reliable fishing at all times during the season. The salmon are normally running fresh for 5- to 6-week periods, making it possible to fish for more than one anadromous species during many weeks of the season.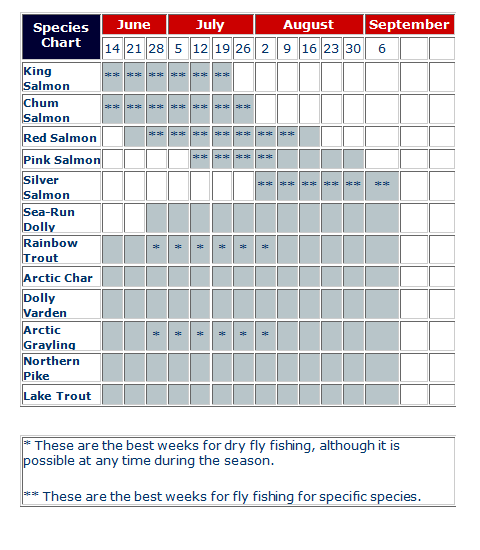 Region/Terrain Where You Fish:
Bristol Bay Lodge is Alaska's premier world-class wilderness fishing lodge. Strategically located in the heart of America's largest state park, Bristol Bay Lodge has the distinct advantage of being utterly surrounded by pristine wilderness. The lodge's proximity to the watersheds within Wood-TikChik Park and Togiak National Wildlife Refuge means more fishing and less travel time, with flights averaging only 30 minutes. Abundant home water fishing is also minutes from the lodge. Just a short boat ride from the lodge's front door is the world-famous Agulowak River, celebrated for its productive fishing for rainbows, grayling, char, dolly varden, and sockeye salmon.
2022 Rates:
2022 Weekly Rate:
$12,850.00 per person this includes round trip airfare from Anchorage to Dillingham on scheduled charter flights..

2022 Family week:
June 11th - 18th
Adults at a full rate of $12,850.00; children 50% - $6,425.00.

2022 Short weeks:
3.5 day packages or 3.0 day packages when available
Saturday to Tuesday evening 3.5 day stay $6,920.00 per person.
Tuesday evening through Saturday morning 3.0 day stay $5,930.00 per person.
Travel for 2022:
Bristol Bay Lodge has arranged Air charter flights when appropriate for our guests needs for 2022. These flights will be arranged by Bristol Bay Lodge. This will allow us to have better control of flights inbound to Dillingham and outbound Back to Anchorage.
Our Monday to Monday guests will have there flights booked via Pen Air or Ravn by Bristol Bay Lodge. Once these tickets are purchased they will be sent to our Monday to Monday guests.
Reservations:
We require a deposit of 50% per person to confirm a reservation. The balance of payment is due 60 days prior to arrival. Payments are fully refundable only if the space in question can be fully filled by another party prior to 60 days before arrival. At that time, space will be offered at the remaining balance price and the original deposit will be forfeited.
Traveling to Bristol Bay Lodge:
If your reservation at the lodge is a Saturday-to-Saturday stay, you need to be in Anchorage on Friday in order to make the departing flight to Dillingham on Saturday morning. If your reservation for the lodge is Monday to Monday, you must be in Anchorage by Sunday in order to make the departing flight to Dillingham on Monday morning. This is a must for both domestic and international guests. It is imperative that you are on the following flights detailed below in order to connect with the scheduled transfers to and from the lodge on your days of arrival and departure. Both Saturday-to-Saturday and Monday-to-Monday bookings should be on these flights:

En Route to the lodge – Alaska Airlines flight #261 (operated by PenAir)
Departs Anchorage at 8:15 am and arrives Dillingham at 9:45 am

Departing the lodge – Alaska Airlines flight #262 (operated by PenAir)
Departs Dillingham at 10:15 am and arrives Anchorage at 11:45 am

Please Note:
Reservations at Bristol Bay Lodge will not be fully confirmed until these flights are booked. Sorry, no exceptions can be made.

Flights will book up fast. We suggest that you contact PenAir at 1-800-448-4226 and ask about their special sportfishing fare which has no restrictions. Be sure to mention that you are fishing with Bristol Bay Lodge because the lodge holds group space with PenAir.

Upon arrival in the port city of Dillingham, you will be greeted by Bristol Bay Lodge staff. At the airport it is required that you claim your luggage which will be loaded and accounted for prior to departing for the lodge. Bristol Bay Lodge is roughly 35 miles inland. Guests are transported down the lake road (40 minutes - roughly 20 miles), then board large covered boats for the stunning ride up Lake Aleknagik to the lodge. Upon arrival you will be escorted to the main lodge where you will be offered lunch. Afterward there will be an orientation, following which, you will be shown to your room or cabin. Every guest will have the opportunity to go fishing on his or her arrival day.
bvseo_sdk, dw_cartridge, 21.1.0, p_sdk_3.2.0
CLOUD, getReviews, 0ms
reviews, product
bvseo-msg: SEO SDK is disabled. Enable by setting seo.sdk.enabled to true. SEO SDK is disabled. Enable by setting seo.sdk.enabled to true.