What To Pack For A Fly Fishing Trip To Wyoming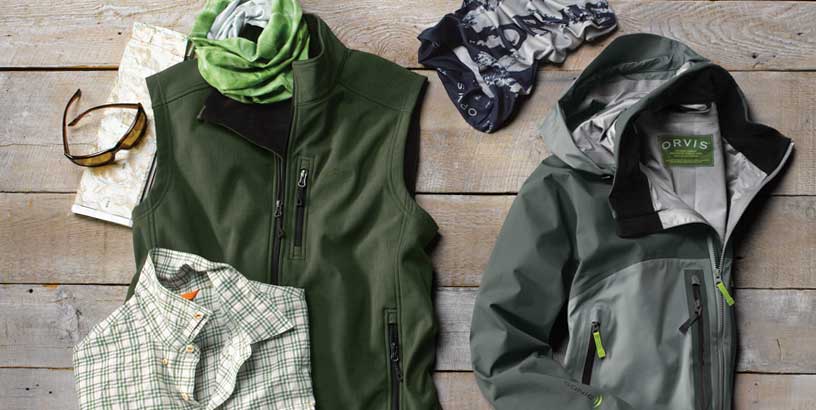 Like any mountain state, the weather in Wyoming can change dramatically by elevation and throughout the day. Add the fact that places like Big Piney and Yellowstone Lake regularly make the National Weather Service's daily low temperature records for the lower 48 states, and you'll want to make sure you have the proper clothing layers for your next fly-fishing trip to Wyoming. Let's take a look at some key clothing, fishing gear and accessories to bring with you, whether you're headed to Jackson or Laramie, Sand Creek or the Miracle Mile.
Clothing
A wicking and insulating base layer – Long-sleeved or short, merino or synthetic, a wicking base layer that can retain some body heat is a necessity for active trips to Wyoming. Even if it's a sunny day in August, the mornings and evenings can be quite chilly. A short-sleeved synthetic tee for the warmest afternoons, and a long-sleeved quarter-zip shirt will provide a solid base for just about any conditions the Wyoming fishing season can throw at you.
Merino Wool Socks – Your base layer should include your feet, and a few pairs of merino wool socks should be included in any bag headed to Wyoming. For hiking, wading, and lounging in all weather, merino keeps your feet warm and dry while minimizing odor.
Mid-layer – It's okay to include a little fashion for your Wyoming adventures, but try to avoid 100% cotton garments. A synthetic hiking shirt combines the plaid print and handsome cut of a work shirt, with the UV protectant and wicking properties of a technical shirt.
Insulating Layer– You can go a whole week without needing it, but you'll want a down or synthetic insulating layer on hand when you finally do. For the coldest nights and mornings, you simply can't beat the warmth a synthetic or down sweater or jacket can provide. It's an absolute must if you're headed to the high country to fish for wild cutthroats in the Tetons, Absarokas, or Winds.
Waterproof Rain Shell Jacket – Similar to your insulating layer, you may not need a rain shell during your entire trip, but when you need it, you'll be glad you brought it. Carl Sauerwein of Boulder Basin Outfitters in Cody says, "Bring your rain gear! Wyoming's weather is unpredictable so it's best to be safe and stay dry." You'll want a technical rain shell that's lightweight enough to pack, but can hold up to the strong storms that can suddenly pop up in Wyoming. "No ponchos, they blow too much in the wind and if you're on a pack trip they could spook your horse," recommends Sauerwein.
An Insulating Hat – Wyoming mornings at elevation can be quite chilly. George H. Hunker of Sweetwater Fishing Expeditions in Lander suggests, "Bring a super lightweight cap, which can make you comfortable on those early mornings or if the wind picks up. Get one thin enough to fit under your regular brimmed hat."
A Brimmed Hat – Whether you choose a classic ball cap or trucker, or a full brimmed hat for complete coverage, a hat is necessary to keep the Wyoming sun out of your eyes.
Accessories
Polarized Sunglasses – Fishing sunglasses aren't necessary only to block the sun and protect your eyes, but also to help you see below the surface glare of the water. Whether you're sight fishing trout or navigating a tricky wading section of river, you'll be thankful to be able to see what's on the bottom of the river.
Camera – You'll want to document every moment of your fly-fishing trip to Wyoming. So whichever camera you choose, make sure it's within reach for quick fish photos.
Water Bottle – Carl Sauerwein recommends, "A good water bottle with a filter in it. You are supposed to drink 1 liter of water above your normal intake for every 1000 ft. of elevation change. So with a filter bottle you can feel comfortable filling up without the concern of contaminated water and you don't have to pack extra weight."
Sun Gloves – Hunker also suggests, "Sun gloves. Besides keeping the sun and bugs off, these just take the wear and tear one level away from your fingers."
A UV buff to keep the sun off your neck and face.
Sunscreen and lip balm to protect from the high elevation rays.
Fly Fishing Gear
You may also like:
Top Fly-Fishing Rivers in Wyoming