When To Travel To Wyoming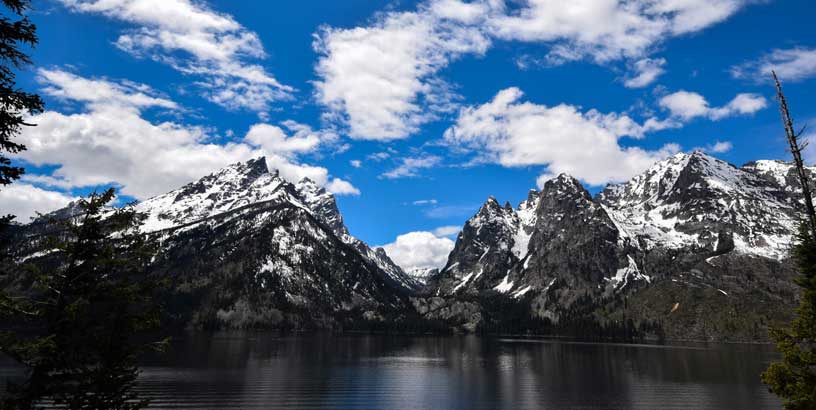 Trout fishing in Wyoming tends to follow the Mountain West fishing seasons of pre-runoff, runoff, post-runoff, early fall, and winter. These seasons overlap the four seasons of spring, summer, fall, and winter and vary each year depending on snow melt and rainfall. But with a number of blue ribbon tailwaters reliably flowing throughout the state, you'll find great fishing just about any day of the year, depending on your preferred experience. So when should you take a fly-fishing trip to Wyoming? The quick answer is, "as soon as you can!" If you're looking for a specific experience, for instance wet wading freestones and casting for cutthroats rising to PMD's, then consider the pros and cons of each season and talk to a Wyoming guide about when each "season" may occur this year.
Pre-Runoff (Spring)
After things in the valleys begin to look spring-like, but before the snow in the mountains begin to steadily melt, the free-flowing rivers at lower elevations are at moderate levels with the first signs of topwater bug action. While you'll rely mostly on subsurface action, BWO's and caddis emerge in legitimate hatches semi-regularly on these rivers. It's a great time to score a deal on a guide or float trip, as there tends to be a little less demand during pre-runoff, than post-runoff.
Runoff (Late Spring)
Once the snow begins to melt in high quantity in the mountains, it cascades down the rivers, blowing out any free-flowing water below. So where should you fish during runoff? This time of year you have two main choices for where to fish — smaller creeks and side channels of your favorite rivers, or tailwaters which have reservoirs upstream to contain higher flows. With limited water, you may need to share the few prime spots with other anglers, so if you're looking for solitude (and prolific hatches) the runoff season may not be preferred.
Post-Runoff (Late Spring - Late Summer)
Prime-time in the West, the free-flowing rivers begin to come down and as the water warms from the summer sun, the insects start to hatch en masse. Beginning with BWO's, caddis, PMD's, and drakes, then progressing to terrestrial season, post-runoff season should not be missed. The only downside to post-runoff is it tends to be the busiest time of year on the rivers of Wyoming. But with with most rivers in near perfect condition for the duration of average post run-off seasons (with the exception of rivers that are more susceptible to warming water), you'll find plenty of water to escape your neighbors.
Early Fall
Early fall in Wyoming brings warm days, cold nights, and fewer anglers. The summer visitors have all gone home, but locals and those in the know make the most of summer-like hatches, beautiful scenery, and active trout in cooling water. Like pre-runoff, you're likely to find a deal or two with guided trips and float trips.
Winter
Most rivers in Wyoming are fishable during the winter, but access may be more difficult due to snow, or limited due to property rights. Each region is different, so check out your destination's region for updated Wyoming fishing regulations before you go (you should know the regulations for all seasons, but special winter regulations may apply).