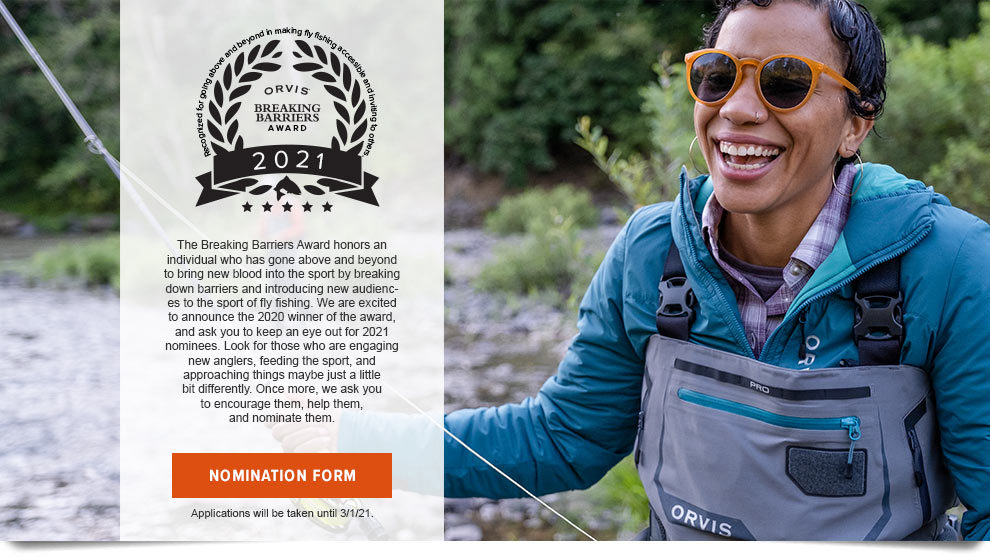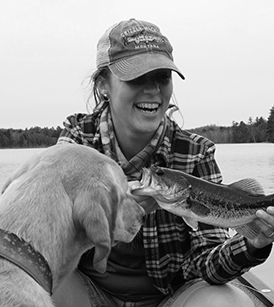 We are proud to honor the 2020 Breaking Barriers Award winner, Bri Dostie, founder of Confluence Collective, a national organization committed to fostering inclusivity in the sport of fly-fishing. Dostie has gone above and beyond in her work to cultivate mindful and welcoming learning environments that support inclusive access and sustainable practice both on and off the water.
Dostie grew up in the woods and waters of rural Maine, spending as much time as she could outside. She caught her first brook trout at age six, casting into a stream with her mom using a metal lure her grandfather had suggested. The deeper she ventured into the world of fly-fishing the more she recognized the less-than-supportive attitude women in the sport often received. She saw a need to expand networks within the sport that would provide comfortable and welcoming spaces for learning and sharing.
An optimist with an uncompromising work ethic, Dostie founded Confluence Collective with the goal of increasing inclusivity in the sport through three pillars: community, environmental stewardship, and education.
"We're looking to get more diverse voices into the conversation of what fly fishing will become," says Dostie. "Our goal is to create community and experiences that are more accessible to diverse populations everywhere, and support those in the industry who join us in this mission."
Confluence Collective launched fly-fishing exchanges in the summer of 2019 to connect distant communities of fly fishers, bringing them together to learn from local anglers and experts in a supportive, welcoming and accessible environment. Exchanges incorporate education about local resources and sustainable usage, as well as mindfulness workshops that examine the ways culture influences experiences on and off the water.
Learn more about Dostie and Confluence Collective.

We are proud to honor the 2019 Breaking Barriers Award winner, Tracy Nguyen-Chung, founder of Brown Folks Fishing, a national angler-led initiative that cultivates access, conservation efforts, and community for Black, Indigenous, and people of color in the sport of fishing. This year at the annual Orvis Guide Rendezvous, COO, Simon Perkins recognized Tracy for her work going above and beyond to introduce the sport of fly fishing to a more diverse audience.
The daughter of refugees who fled to the US during the Vietnam War, Nguyen-Chung grew up in Portland, Oregon, and her parents' love of the outdoors was ever present. Her father, who grew up fishing in Vietnam, taught her to fish when she was six years old, but she dropped the pursuit as a teenager. It wasn't until she later moved to Los Angeles that Nguyen-Chung decided to revisit the sport.
The deeper she got into fly fishing, the more she recognized the need to diversify the face of the sport, so in spring 2018, she launched Brown Folks Fishing, which has since grown into an organization with a dedicated, multidisciplinary team of ambassadors. Collectively, the BFF team has a following of more than 30,000 on Instagram alone, and they continue to strive to build capacity, access, resources, and community for anglers of color.
"Brown Folks Fishing cultivates the visibility, representation, and inclusion of people of color in fishing and its industry. BFF is both a space to build community and a movement to expand access. We work at the intersection of race, media, and fishing as a gateway to conservation," says Tracy. "Our movement is led by a team of anglers of color whose professional backgrounds include strategic marketing, PR and communications, photography, documentary, outdoors industry, wilderness guides, education, culinary arts, visual and digital art, and conservation. Ambassadors lead initiatives at local and national levels."
Brown Folks Fishing initiatives include community engagement, advocacy and visibility and partnership development.
"I do think there's a shift happening. There are companies, guides, and other anglers who share these ideas and these beliefs," says Tracy. "There are co-conspirators out there that have been helping us along the way and supporting our work."
Read more about Tracy and Brown Folks Fishing on the Orvis Blog and at BrownFolksFishing.com.
In 2015, Orvis created the Breaking Barriers Award to honor individuals who have gone above and beyond to introduce the sport of fly fishing to a more diverse audience. Past recipients have created programs for inner-city youth, under-served veterans, women, Alaskan natives, and children in foster care.
Last April, at a gala event during the annual Orvis Guide Rendezvous in Asheville, North Carolina, we presented the 2018 Breaking Barriers Award to Whitney Milhoan, executive director of Casting for Recovery (CfR).
The mission of CfR is to enhance the quality of life for women with breast cancer through a unique retreat program that combines breast cancer education and peer support with the therapeutic sport of fly fishing. In the five years since she was hired, Milhoan has focused on expanding the program to meet the needs of more ethnically diverse women, as well as those of limited means. (All CfR retreats are free of charge.)
Last year, CfR began offering retreats for women with Stage IV metastatic breast cancer, giving them an opportunity to express their deepest concerns with those in the same situation. This year, the organization will partner with Project Healing Waters Fly Fishing to create retreats for women in the military, whose experiences can be markedly different from those of civilian women. In 2017 alone, Milhoan and her team added 10 new programs, hosted 55 retreats in 44 states, and introduced 770 women to fly fishing.
To sum it up, Milhoan said, "I'm honored to accept the Breaking Barriers Award on behalf of the founding pioneers of CfR, our hardworking staff and board, our dedicated volunteers and most importantly the brave women we serve. Orvis's belief in our mission and in the healing powers of fly fishing provide the support we need to continue to change lives." With her warmth, compassion, intelligence and zeal, Milhoan helps to build a road to physical and emotional wholeness for retreat participants, their families, and all those lucky enough to work with her.
Milhoan grew up near Glacier National Park. She attended the University of Montana while working as a fly-fishing and rafting guide. It was during this time that she was first introduced to CfR. After graduation, she worked with several nonprofit organizations, utilizing outdoor therapies to promote physical and emotional healing, where she learned, "Outdoor experiences renew our spirits and remind us that we're alive." Casting for Recovery was the ideal next step.
Orvis is honored to name Whitney Milhoan the recipient of the 2018 Breaking Barriers Award. In celebration of the life-changing work of Casting for Recovery, Orvis will donate $1 to CfR for every 2018 participant in FF101, the company's free introductory fly fishing course.
Click here to read a great interview with Whitney on the American Museum of Fly Fishing website.
We're proud to honor 2017 Breaking Barriers Award winner Jess Westbrook, founder of The Mayfly Project, a mentoring program for children in foster care.
Jess started fishing when he was eight years old, but it was not until three years ago that it took on a new importance.
In 2014, Jess and wife Lauren's son, Kase, was born. Soon after, Jess started experiencing intense anxiety attacks, which he had never had before. In a six-month period, he lost 30 lbs., was missing work frequently, and distancing himself from loved ones. "A friend that I admired kept getting me out on the river and I found that when I was on the river I forgot about everything but fishing," explained Jess. All his worries and anxious thoughts seemed to disappear as soon as he stepped into the water. "When we are fly fishing we are so concentrated on casting, mending, presenting good drifts, etc., that we forget about everything else around us."
During this time, Jess was introduced to mentoring children in foster care through an organization at church. The timing was perfect. He was looking for a way to give back to the community through fly-fishing, a sport that had helped him over some very tough hurdles.
"It broke my heart knowing that my son was going to grow up in a loving home with parents that would support him no matter what and these kids in foster care did not have that. It's hard enough growing up, much less growing up without loving parents." He continued, "They did not choose this path. Someone else's action brought them to where they are."
Jess realized that not only could fly fishing help these children's lives, but it would be an opportunity for them to get out on an adventure, which is something they don't often get to experience.
Jess and Lauren partnered with Kaitlin Barnhart in Idaho in 2016, who was taking children in foster care fly fishing as well, and found they had almost the exact same beliefs in why fly fishing is so important for foster children. "During a most chaotic time in their lives, foster children could find an anchor in the outdoors and find home rivers even when they don't feel like they have a home," Jess explained with deep empathy.
Participants in The Mayfly Project are guided through five sessions called "stages", just like the life cycle of a Mayfly. Within these stages, the children learn line management, casting techniques, knot tying, some entomology, river safety, mending tactics, hook setting, catch and release tactics, and the value of conservation.
At the end of the five stages the child is given his or her very own fly rod, reel, pack, fly box, flies, tippet, indicators, and more. "Our hope is for the child to continue to pursue fly fishing and to have an entry point to the outdoors," said Jess. Each project is unique and may contain more or less stages, but the goal is to provide a well-rounded and safe fly-fishing experience for children in foster care.
"Fly fishing has had a huge impact on my life, and every mentor we talk with has a story about how fly fishing either changed their life, or they use it on a regular basis to improve their lives," said Jess.
In the short span of a year, The Mayfly Project became an official nonprofit and in 2016 mentored 25 kids from two states. This year, the number is set to double, with 50 foster kids from 8 states experiencing an exciting fly-fishing adventure. In 2018, a goal has been set to take at least 5 foster children to Alaska for a week.
The Mayfly Project is also bringing important awareness and mentoring opportunities to these "forgotten" children. "We have found that some people have wanted to work with this population but have not known how to start the process. We are raising awareness of not only the number of children in foster care (400,000), but also of the fact that these children are worth our time and persistence in jumping through the hoops to get them out fishing," Jess explained.
"Our hope," shared Jess, "is to get these kids out on the water for a fun time, and for that day they will only be thinking about how to cast and mend, and eventually they will learn that the outdoors is a place of refuge for them, and is available to them throughout their lives."
Nelli Williams grew up fishing and camping in Wisconsin and later earned a college degree in Natural Resource Management and Conservation Education. While in college, she worked summers for the Forest Service in Alaska and fell in love with the state. Of course, one thing led to the next, and in 2003 she caught her first salmon on a fly rod and knew after that she would have to call Alaska home. She now lives in Anchorage in a house with a driveway littered with boats and spends every spare moment on the water fishing, playing with her husband and two kids on gravel bars, and exploring new places.
Nelli is Trout Unlimited's Alaska Program Director and has played a critical role in protecting Bristol Bay and other key conservation campaigns. But beyond her impressive work through TU, Nelli has been central to establishing and growing the Bristol Bay Fly Fishing and Guide Academy. The Academy is in its 8th year and teaches young Bristol Bay residents, almost all Alaska Native, how to fly fish, and prepares them for jobs in the local recreation industry. Each year, the program accepts 12-15 students between the ages of 14 and 24. They spend a week immersed in lodge and guide life, learning casting, fly tying, customer service best practices, outdoor safety and first aid, river ecology, conservation, and more from local experts in the fly fishing and guiding community. They also talk with local community leaders, biologists and elders on how to enrich a visitor's experiences through their own stories and culture. At the end of the week, they finish with a mock guiding day where the students practice their new skills on local community members.
Since it began 8 years ago, the Academy has graduated 79 local students—about half of which have been young women; 11 students have gone on to work at lodges and many students use the rods and reels they received to fish recreationally. Students have even brought fly fishing back to their own villages and teach fly tying classes. And several years ago, Bristol Bay Native Corporation purchased Mission lodge, a fishing lodge in the heart of Bristol Bay, and hired an Academy graduate as their assistant operations manager.
Although she would be the first one to tell you that there are others who also deserve credit for the Academy, it is Nelli's work, dedication and passion that has been central to the program's success in increasing collaboration and coordination between local communities, as well as sport and Subsistence fishermen. Many lodges are seeing the benefit of local hire. Her work is helping break down the long-standing barriers that have stood between local Subsistence fishing and recreational fishing. Attitudes from both sides are changing from skepticism to potential opportunity. And she is empowering the local community to embrace fly fishing as a personal passion, professional opportunity, tool to inspire cultural acceptance and chance, and of course a way to foster and nurture future stewards of the natural resource.
With all of that, it is my honor and pleasure to present the 2016 Breaking Barriers award to Nelli Williams.
In 2010, Chad Brown was diagnosed with Post-Traumatic Stress Disorder, 15 years after working as a Combat Explosives Engineer in the US Navy and completing two tours of support of Operation Desert Storm in Kuwait and Operation Restore Hope in Somalia, as well as operations in Cuba, New Zealand, Iceland, Egypt, Korea, Kenya, Antarctica, Afghanistan and Spain. PTSD became a daily struggle and reality in Chad's life.
Chad knew he wanted alternative therapies and was introduced to fly fishing by a friend. He recalls the feeling of complete happiness the first time he ever hooked a fish. He knew then that connecting with the outdoors would be his path to healing. Chad started Soul River in 2010 to merge his love of art, creativity, and design (he had worked for 20 years in creative advertising and design) with his new love of fly fishing. Soul River is an urban, outdoor fashion apparel and gear line inspired by fly fishing, that also serves as a vehicle to communicate environmental advocacy and share the healing powers of fly fishing with a younger and very diverse demographic.
He later started Soul River Runs Wild, a non-profit that is an outdoor, specifically water-based organization bringing under-served inner-city youth and veterans together to the river and returning them home as inspired ambassadors of nature and individuals who have shared in the healing power of fly fishing.
The non-profit operates at zero cost to participants. Military veterans volunteer and serve as mentors to the kids. In 2014, Soul River Runs Wild connected more than 300 kids, ages 10-18, with fly fishing, entomology, river reading, casting, navigation, team leadership, and more. Chad expects over 600 kids to go through the program this year. Chad has been invited to share his vision and passion at the city, state, and federal level, including Capitol Hill. In July, Outside Magazine will have a feature story on the work that Soul River is doing to make fly fishing more inviting to diverse demographics.
Orvis is very proud to announce Chad Brown as the 2015 recipient of the Breaking Barriers award.
In 1992, Lori-Ann Murphy put on the first ever Orvis Women's Fly Fishing School in Jackson, Wyoming. It was such a success that the next year Lori-Ann teamed up with 6 other ladies and led a weekend fly fishing school that filled up with 27 women from all over the country. The women in the class all said the same thing: "they felt so much more comfortable and at ease learning and conversing with other women when it came to fly fishing." Thus, Reel Women was born. It became their mission to share a passion for fly fishing with other women and inspire them to tap into the fun and adventure that plays such an important part of the fly fishing world. That summer, Lori-Ann and two of the women returned to guiding in Wyoming for Joe Bressler Outfitters, but as Lori-Ann says, Joe saw the writing on the wall and so he supported and gave them the confidence to start their own guiding company. And it wasn't just about women—it was about inviting anyone interested into the sport. The Reel Women schools and trips opened up to men and women alike and soon Reel Women had their own shop.
It became contagious, as Reel Women started to serve as examples for other women to start their own schools and lead women's trips all over the world. The Reel Women team grew and Lori-Ann partnered with Jennifer Cornell to oversee the organization. Jennifer embodied the same mentality as Lori-Ann, as she had taught female directors of the Bahamian Ministry how to fly fish while she was working as a fishing director in the Bahamas.
The individuals of the Reel Women team continue to do great things individually and collectively within the industry as guides, instructors, trip leaders and fishing directors. Their mission is to introduce women to the life of fly fishing and they continue to seek new opportunities to make the sport more inviting.
When we look at the ratio of male to female clients and customers in other industries, for example white-water kayaking, we see much more balanced gender demographics than what currently exists in the fly-fishing industry. We believe a big part of that is the amount of female professionals and influencers you see in the white-water shops and industry as a whole. At Orvis, we believe this should be our goal for the fly fishing world, which is why we are proud to announce Reel Women as the recipients of the 2015 Breaking Barriers award.