My home in southwestern Vermont is less than two miles from the Battenkill, the wild brown-trout river for which the legendary Orvis reel is named, and there are countless freestone streams full of native brookies flowing out of the Green Mountains just on the other side of the valley. A trout-loving angler is spoiled for choice on any given day, and I was laser-focused on salmonids for many years. But this all changed the summer that my 10-year-old son, Niall, expressed an interest in fishing from our canoe.
It was through him that I rediscovered my love for warmwater species—such as large- and smallmouth bass, pickerel, and panfish—on lakes and ponds throughout the region, many of which I'd never considered fishing before. The joys of spending time with Niall, working topwater flies through weedbeds on warm summer evenings, and sharing in the excitement of an explosive strike changed my view of my local fishing options forever.
Then, in 2014, the Orvis Fly Fishing blog launched the "20 Days in September" Project, which set an ambitious goal: to go fishing 20 days during the month. No one wants to fish the same water over and over, so now there was even more incentive to try new places, which led to even more species to target. And because I still had to go to work and spend time with the family at night, I did most of my fishing within a few minutes of home. Oftentimes I was joined by Orvis colleagues who were surprised to learn just how good the fishing was in places they'd driven by for years.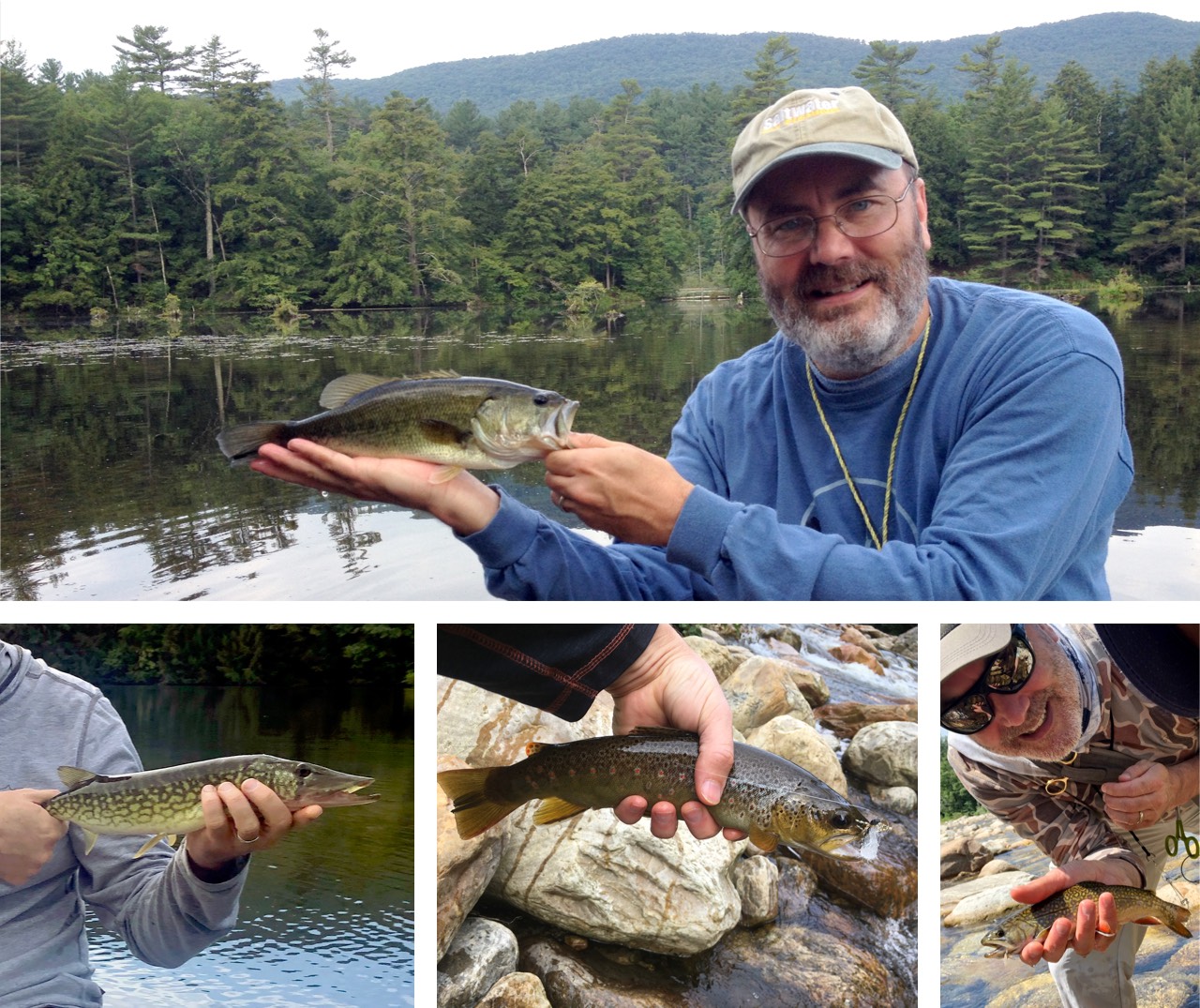 The author with species from local waters. Clockwise from top: largemouth bass, brook trout, brown trout, and chain pickerel.
When most people think of fly fishing, they picture an angler casting for trout on a beautiful mountain freestone stream, just like in the movie A River Runs Through It, but the fact is that you can catch almost any species of fish on a fly and have a lot of fun. No matter where you live, you almost certainly have a variety of game species—from panfish and bass, to trout and salmon, to carp and suckers—available within a short drive of home. Think of the ponds and lakes you pass by and the streams you cross on your way to somewhere else. Have you ever wondered if the fishing is any good there? Since many of us are traveling less these days, it's the perfect time to plan a series of mini adventures, exploring those local waters to see what swims in them. You may be astonished by what you find!
Saltwater anglers have long prized the Grand Slam, which involves catching a bonefish, tarpon, and permit in the same day. If you were to apply that concept to your home waters, what species would constitute your own "Local Slam"? In southwestern Vermont, where Orvis is headquartered, we can cast for brown trout, brook trout, rainbow trout, largemouth bass, smallmouth bass, pickerel, northern pike, common carp, and a variety of panfish—all within a half hour of the office. Our friend, Drew Price, who guides and fishes in the northern part of the state, has taken this goal to the extreme by attempting to catch a trophy-size specimen of all 33 species of game fish in the state. He's almost there, as you can see from the video below.
Planning Your Own Slam
The first step to creating your own Local Slam is to look for nearby places to fish and determine what species are available in these waters. Most state fisheries agencies publish lists of fishable waters, along with what you can catch in each. Other local anglers, fly shops, and bait shops are also great sources of knowledge.
Now it's time to plan your own slam. Set yourself a goal or series of goals. Here are a few ideas to get you started:
Catch four different species in one day


—e.g. brook trout, largemouth bass, bluegill, and pickerel.

Catch all species in the same family


—e.g. bass and panfish, or all species or trout.

Catch all species in a particular body of water.
Catch all species in a specific area


—e.g. your town, county, etc.
If you have a buddy with a boat that will offer you access to waters difficult to fish from shore, see if they would like to join your mini adventure. You could even make this a competition with your fishing friends. Perhaps teams of two anglers could vie for fun prizes. There are many ways to make the Local Slam fun and exciting.
As an added incentive, we are including a Local Slam category in this year's "20 September Days" Photo Contest. All fish for this competition must be caught during the month of September, and you'll be up against anglers from all 50 states.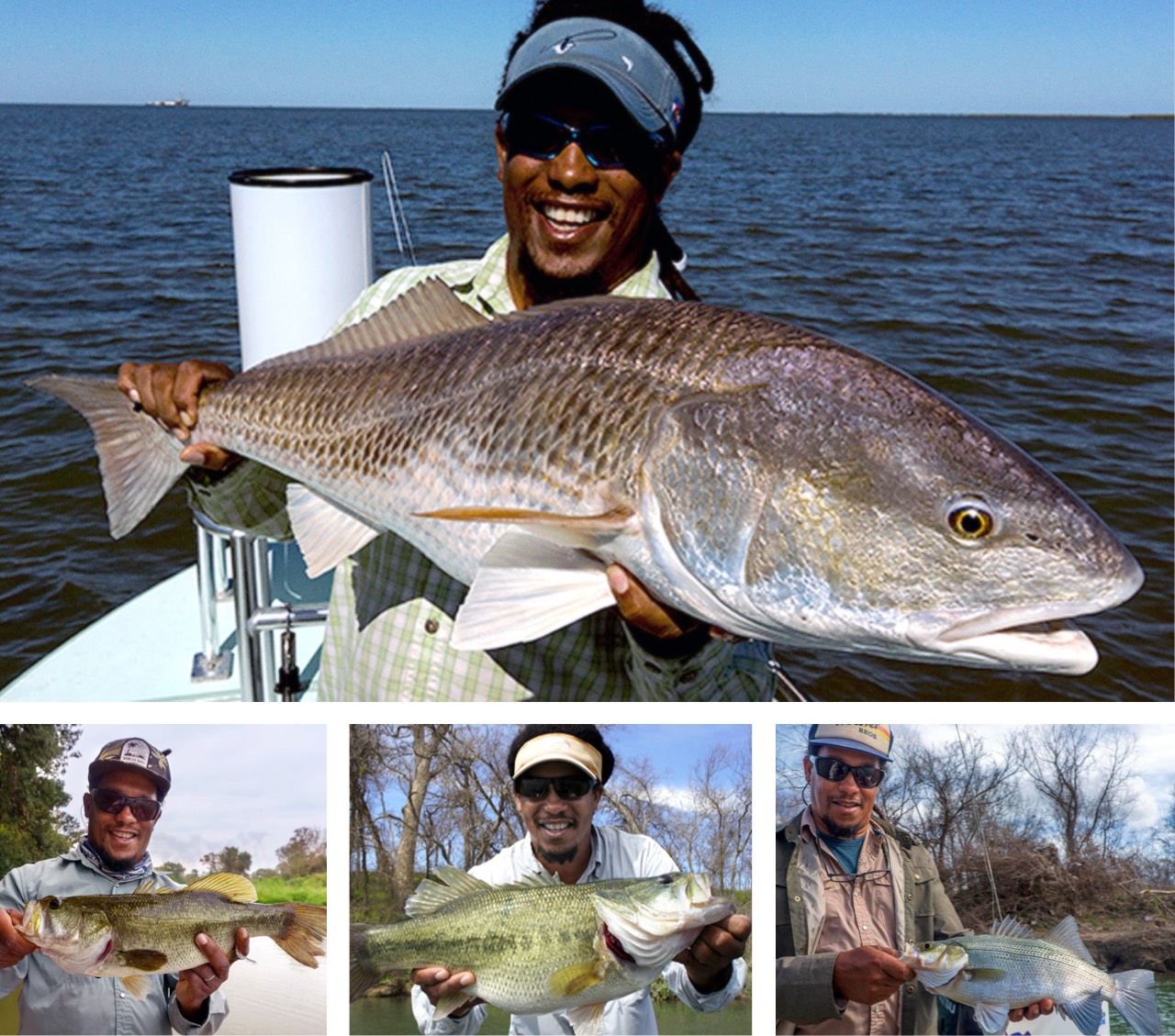 Alvin Dedeaux—owner of All Water Guides in Austin, TX—has access to both saltwater and freshwater game fish. Clockwise from top: redfish, white bass, largemouth bass, and Guadelupe bass.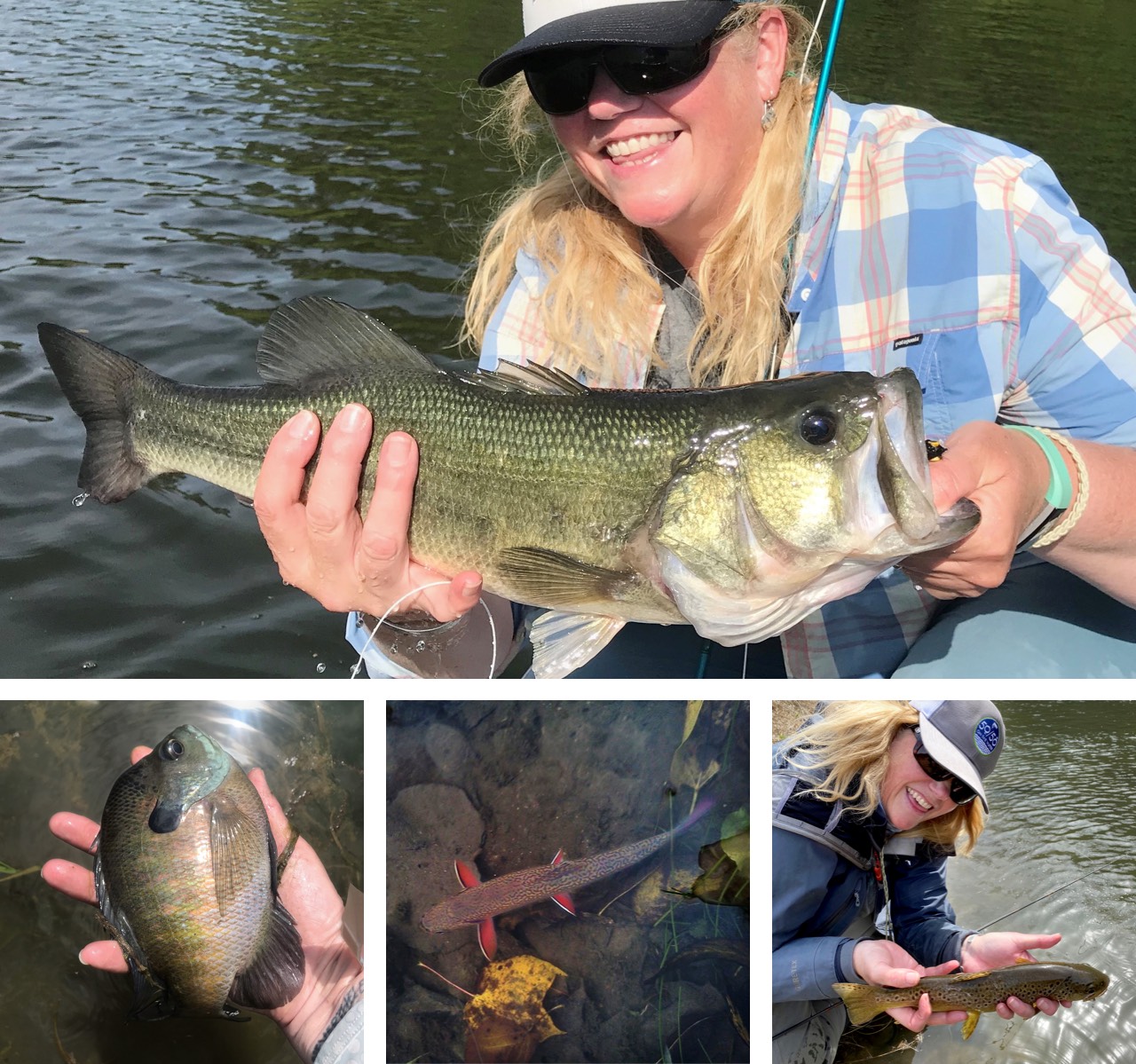 Geri Meyer—owner of Driftless Angler in Viroqua, Wisconsin—shows off her Local Slam. Clockwise from top: largemouth bass, brown trout, brook trout, and bluegill.
Think you can get out for at least 20 days for a Local Slam in September? Keep us in the loop! Tag your on-the-water photos with #orvisflyfishing and you'll be entered to win great prizes!