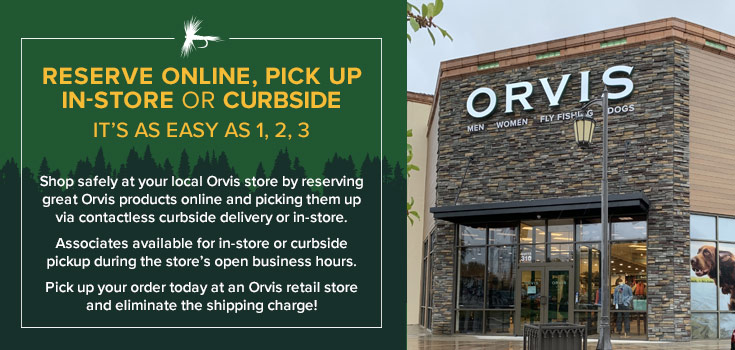 Pick up your order today at an Orvis retail store and eliminate the shipping charge! To see a list of participating stores, click here.
---
It's as easy as 1-2-3…
1. Reserve online – check your local store for product availability
Search the product you'd like to purchase at Orvis.com. Select the color and size of the item you'd like to reserve and if the product is available at your local store, select the CURBSIDE PICKUP option.
2. We'll notify you when your order is ready for curbside or in-store pickup.
We'll notify you on the store's next open business day if the item is available for curbside or in-store pickup at the store. Our store manager will reach out by phone and take payment information if you're picking up curbside. If you're picking up in-store you can pay when you arrive at the store.
3. Pick up items at the store selected.
Pick up your items at the store during the store's open business hours. Or if you prefer minimal contact, curbside pick up is available. If you prefer curbside pick up, upon arrival at the store, call the store phone number and we'll provide contactless delivery to your vehicle. Please visit orvis.com/stores or call the store for current business hours.