How To Pack Light: Tips For Travels Near And Far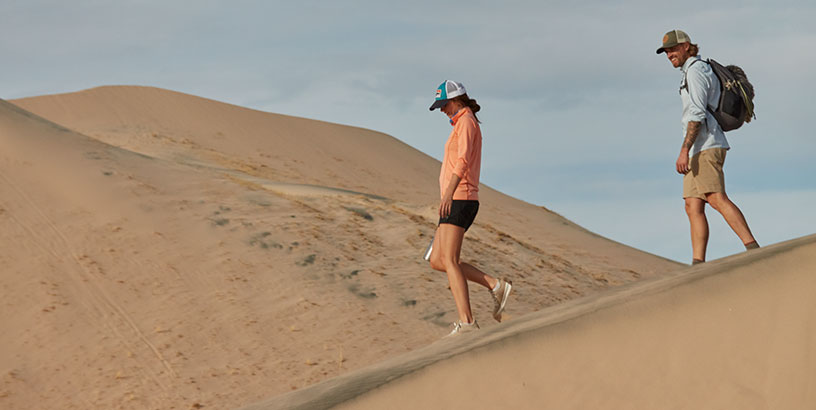 Packing light is a skill well worth learning whether you are planning a weekend getaway or a trip around the world. Once you've mastered the fine art of keeping it light, you can set off on all your future adventures knowing you have the essentials you need, room to spare for a found treasure or two, and without feeling the least bit laden down on your journey. And if you pare your bag down to a single carry-on, you avoid the heavy fees that come with checking-in your luggage.
How To Travel Light: It's In The Bags
Begin with lightweight bags: Start with bags that are feather-light before you pack a single sock because it only gets heavier from there. Bags made with ballistic nylon are a good choice, as they are strong and extremely lightweight. Duffels with wheels are also great options, because they expand and contract as you need and there's no added weight from an internal frame. If you want to see how low (in baggage weight) you can go, opt for a nylon backpack and keep it at that. You'll feel wonderfully unencumbered and impress fellow travelers with your pro-packing skills.
Make sure your bags are sturdy and manageable: No matter your mode of travel – by air, land, river, or sea – it's crucial to have luggage you can easily roll through an airport, hoist into the overhead bin, tuck under a seat, or heave into your car's trunk for a long road trip. Your luggage should be sturdy enough to withstand rough handling on its way on and off your means of transport, or even pull double-duty as a chair when you're stuck in a slow-moving line.
Utilize your personal item well: The computer bag, purse, or briefcase you can keep with you in addition to your carry-on offers prime packing real estate that often goes unused. Roll your e-reader in an extra tee shirt. Tuck a hoodie in your computer bag. Put some socks in your camera bag. As a bonus, your electronics get a little extra cushioning.
Tips For Packing Light For Travel
Pack in advance: Overpacking is far more likely when you put off the process until the day before a business conference or the morning of a flight overseas. That's when you start tossing things in your bag that you "might" need and wind up lugging weighty items only to unpack them again, never used, when you get home.
Answering the following questions will help you make wise choices that lighten your load:
Will you be swimming?
Will you be sitting down for table service in restaurants often? Or are you more likely to seek out gourmet food trucks for quick, curbside eats?
Is the climate very cold, very warm or temperate?
How much does the temperature vary between day and night?
Are you going to be hiking outdoors for most of the trip or wending your way through museum exhibits?
Then, a week or so before you go, lay out all your clothing, toiletries, and gear for the trip in a spare room, or on the floor in the corner of your bedroom. Then go through each item and ask yourself the hard question: "Do I really need that?" Then ask the question again and again, until the answer is a firm "Yes" for everything.
Where are you going and for how long? Of course, the answers to the above questions depend upon where you are headed and how long you'll be there. What's your itinerary? If you are hiking in South America for two months, traveling extremely light is going to help you enjoy your trip far more. If you are going on a Caribbean cruise, light packing can be a bit "heavier" as you won't be carrying your luggage repeatedly and you'll need dressier clothing for evenings spent dancing. If you require heavy gear for your trip, such as scuba equipment, fly rods, or skis, consider splurging to ship the items in advance, or renting them when you get there if your destination offers the option.
Keep it to seven outfits: Never pack more than a week's worth of clothing, even if you are taking an extended vacation. You can have your laundry done at the hotel or, better yet, do it yourself at a local laundromat as a wonderful way to meet and chat with locals. In a pinch, you can wash essentials in your hotel room sink and hang them to dry for the next day.
Keep it in neutral: A simple color palette for your clothing allows you to keep tops and bottoms to a minimum because you can mix and match with ease. For women: Taking along a bright scarf or sarong is a simple and versatile way to add a pop of color to your outfits that only takes up minimal space. For men: A knit cardigan is a great way to dress up your look when needed.
Roll your clothing: This is the tried-and-true method for utilizing every square inch of your luggage. Heavier pieces, such as rolled jeans, go on the bottom layer of clothing, while blouses and tees go towards the top to minimize wrinkling.
Layer up en route: Plane cabins are cold, so take advantage of your travel wardrobe. Wear a favorite tee, layer on a cozy zip hoodie, then top it off with your travel jacket. It's a good idea to wear your heaviest shoes, such as comfortable hiking boots, while you are in transit because they take up a lot of space and are cumbersome to pack.
Take a test run: Once your bags are packed, carry them up and down the stairs in your home, bring them out to your car and load them in the trunk. Imagine yourself doing those things the likely number of times your trip will require. Then, if you feel tired just thinking about it, see if you can jettison a half pound more.
Ideally, traveling is a wonderful, enlightening, relaxing, fulfilling adventure. But, the simple truth is, it can be also be stressful. Following the above tips, however, is sure to lighten your load and your spirit for the journey ahead.

You may also like: