How To Pack For Warm-Weather Travel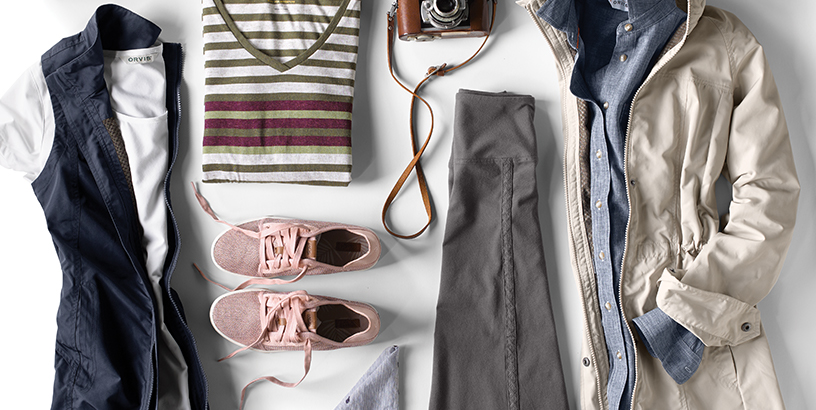 Travel days can be fraught with peril, but packing for a warm-weather trip need not be. A smidgen of planning before you hit the road will help pave the way for an adventure bereft of disasters. You have no control over traffic or the airport security queue, but you are the captain of your travel wardrobe. Being unprepared for the heat will send you diving for cover—that's no fun when you're on vacation. Use our simple packing guide to help you choose the right warm-weather clothing for your destination; once there your only worry should be which cool cocktail to enjoy before dinner.
Packing For Warm-Weather Travel In Three Basic Steps
1. Fabrics First
Light, natural fibers encourage air circulation and breathability; include wool (yes, really) when you pack. Fine Merino wool insulates against the heat the same way it does the cold, and can be worn as a base layer in warm climes. It also resists odors—in a bind you can wear it for more than a day before it must be washed, whereas synthetic performance textiles and blends will require washing after an active day in the heat. Other stylish warm-weather fabrics include silk, linen, rayon, cotton seersucker, and chambray. Avoid polyester, which creates a seal and prevents heat and sweat from escaping.
Quick Tip: Don't sweat it. If you're traveling where it's both hot and humid, pack quick-drying clothing you can wash and drip dry overnight in your hotel room. And place your clothes on hangers or drape them neatly over the back of a chair so they'll stay clean and dry during your trip.
2. Colors Next
Then choose colors strategically. Light colors reflect the sun and divert heat away from you: whites, pale blues, grays, creams, yellows, and tans are more comfortable in warm-weather than blacks, navy blues, and other dark colors. Try to stick with neutrals mainly, and then add a couple of colors that mix and match well.
Quick Tip: Pack for the sun. Whatever your warm-weather travel destination—beach, tropics, or desert—think sun protection, and remember the sun is strongest near the equator.
A broad-brimmed hat is a must: choose one that is lightweight, ventilated, and packable.
Sunglasses are requisite eyewear; bring your favorites and pack a spare.
If you're especially sensitive to the sun, consider packing a long-sleeved lightweight shirt and long pants with UPF properties; the dress in most tropical locales is fairly casual.
3. Finish With Fit
Choose warm-weather travel clothing with a loose silhouette, slightly less fitted than what you might typically wear: this will help body heat escape. This is especially true for cotton clothing, which will cling when you get sweaty if it's too tightly fitted. But baggy and oversized clothing looks unkempt. A shirt with trousers fitted slightly loose, or a sheer cotton blouse with a maxi skirt, encourage better ventilation and still look smashing. Avoid lined clothing, which is uncomfortable in the heat. Note: remember to choose footwear that fits comfortably, and never bring new shoes, ever—always pack shoes that are tried and true.
Quick Tip: Play by the rules. Research your destination country if you're traveling abroad and learn the proper decorum. If you visit a Muslim country, for example, you'll need to dress more conservatively than you would in Hawaii or the Caribbean. Likewise, just about any warm-weather destination inside the U.S. will be forgiving of casual T-shirts, in most venues.
Water: The Most Important Warm-Weather Accessory
Don't forget your water bottle. Hydration is always important, more still on vacation when you'll be sweating out everything you take in.
Soak a bandana and tie it around your head if you anticipate intense heat. A bandana or buff will shield the neck or forehead from the sun when you spend time outdoors on your trip, and either one can also be used as a headband in a pinch.
How To Pack For Your Warm-Weather Trip
Lay it all out. First choose what you're wearing on travel day. If you're flying, wear your dressiest clothes and heaviest shoes on the plane, and keep your cardigan or lightweight rain jacket with you. Set all of it aside.
Use space efficiently. Pack small items inside your shoes; then pack your shoes in plastic bags to protect the rest of your clothing. Put your bagged shoes in the bottom of your luggage.
Socks make excellent padding. They're perfect for protecting delicate items like sunglasses or electronics.
Roll your clothing. It saves space and reduces wrinkling. To roll a shirt, gently fold its sleeves over the center, then start at the collar and roll it down to the bottom, creating a "shirt log." Begin packing your rolled clothing around your shoes. Wedge smaller items between larger ones to keep filling in the spaces.
Put tough stuff on the bottom. Your shoes went in first; continue layering, with sturdier clothing on the bottom and more delicate things on top.
Bring plastic zip bags. They're the perfect solution for wet swimwear and dirty clothes.
Buy toiletries when you get there. It makes little sense to pack teeny bottles of soap to first subject to airport security and then schlep halfway around the world. And when you shop, remember sunscreen and ice packs; you may also need mosquito repellent and a net—check before you go.
Plan for the worst. If you're flying with a checked bag, pack a change of clothes in your carry-on in case your luggage is lost. Better still: travel light and pack everything you need for a warm-weather destination in a smart carry-on or backpack.
Warm-weather packing is a breeze; thoughtful preparations before you go make for smooth sailing ahead. Get the big picture right with lightweight fabrics in cool hues, and don't sweat the small stuff—travel well and enjoy the journey.
You may also like:
How to Pack for Cold Weather Travel