What To Wear Hiking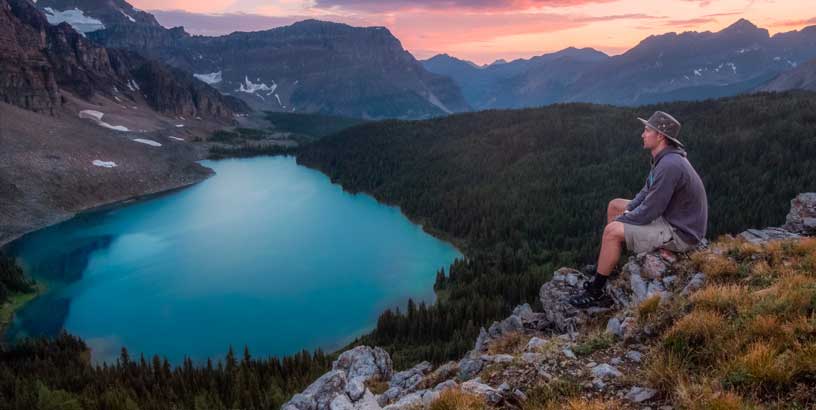 A walk in the woods is an excellent way to retreat and regroup from the hectic pace of everyday life. And for those Type A personalities among us, a demanding hike up and down a mountain is even better. Regardless of how you approach it, your hike will end up being much more enjoyable — and safer — if you are outfitted properly. Here's what you need:
Hiking Boots or Hiking Shoes - Since hiking is an activity that principally involves your feet, you need to treat them well by wearing the best hiking boots or hiking shoes available for your purposes. Many people prefer hiking boots over shoes because they offer sturdy ankle support and protection from the elements, which is important for uneven terrain and muddy conditions. Hiking shoes work well for relatively tame trails and may feel better on your feet than a stiff boot.
Good Hiking Socks for Dry, Blister-free Feet - Arguably as crucial as a well fitting boot, the significance of high-quality performance socks is hard to overstate. Moisture-wicking socks with just the right amount of padding for your particular foot and ankle are a requisite and will contribute to a happy hiking experience. Always bring an extra pair along in your pack.
Lightweight, Moisture-Wicking Pants and Shirts - While your "go-to" outfit might be a cotton t-shirt and jeans, it's not the best choice for a hike. High performance moisture-wicking clothing will be more comfortable ultimately, and will help prevent you from getting chilled if the weather takes a turn for the worse.. Lightweight hiking pants that can be converted to shorts (or vice versa) as the weather heats up are always useful. Choose pants that allow free movement with lots of pockets to carry important accessories.
Outer Layer for Comfort and Safety: Hiking Jacket and Hat - Be sure to pack a lightweight, waterproof jacket, just in case. Even if the weather remains favorable, mountain summits are breezy places which warrant another layer. Any outdoor adventure also requires a hat to protect your face and head from the elements. Your hat should be comfortable—even when you're hot and sweaty—and should have a wide brim to shield your eyes and skin from the sun's rays. And don't forget your sunglasses.
Other Hiking Essentials - A small, lightweight backpack, otherwise known as a daypack, is a good way to carry water and food as well as other trail necessities. A good daypack should be waterproof and fit so comfortably you hardly know it's there. Other important gear carried by experienced hikers includes the following (in addition to a cell phone):
Map
First aid kit
Insect repellent
Compass
Flashlight
Multi-function pocket tool
Waterproof matches
Whistle
Gloves and head buff
Lightweight trekking poles to help with uneven terrain and steep descents, especially for those with compromised knees
Compact binoculars and camera
Bring A Companion Along
It's always nice (and safer) to have a companion along to share your hiking adventures, whether they're two- or four-legged. If you hike with your dog, be sure to pack water, food, and other supplies he may need.
Prepare For Changing Weather
If you are going on a day hike in a part of the country where weather conditions tend to change constantly, even in summer, be prepared before you hit the trail. Weather can be particularly fickle in the mountains, so even if the local forecast calls for clear skies and warm temperatures, you may find that actual conditions are quite different.
How Long And How Far?
Before you set off for your hike, consult a local guidebook or online source to help you choose an appropriate trail not only for the weather conditions and time of day, but also for your fitness level. How much time do you have and how far would you like to hike? If it's early in the day and you're reasonably fit, you can easily cover miles and miles of relatively flat terrain. Trails with an elevation gain, however, can be much more challenging. Experienced hikers use a traditional formula to help determine the length of a hike: 3 miles/hour plus an additional 30 minutes per 1000-ft. increase in elevation. Make adjustments for the specific terrain you're hiking (e.g., rough terrain will slow you down) and your individual circumstances. Elevation gains more than 2500-3000 feet become very tiring for most people.
What Are You Waiting For?
Not only is hiking in the woods an excellent way to get in shape and feel a sense of accomplishment, it's a great way to escape modern madness. In the woods, your senses are heightened by the sights and sounds of nature, which is incredibly exhilarating but somehow relaxing at the same time. There's nothing else like it. Just make sure you're dressed properly for the elements.
You may also like: