Fly Fishing In The Bahamas: What Gear To Bring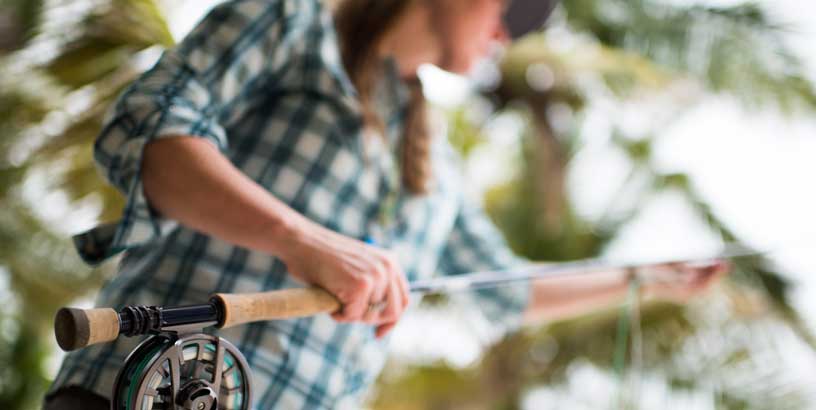 The Bahamas is an easily accessible destination that has a long history of hosting fly fishing travelers. The laidback lodges and experienced guides make The Bahamas a fly-fishing Nirvana that you'll want to return to again and again. The endless flats with schools of big bonefish, hard-fighting tarpon and elusive permit will be all yours without another boat in sight.
The casual atmosphere and fairly predictable weather allows you to pack light, if you chose your fly-fishing gear wisely.
Fly-Fishing Bags
Keep them compact and waterproof.
A small, waterproof duffle will keep your gear and clothing clean and dry on the flats boat. Skiffs have limited room, so try to keep your baggage to a minimum. Soft bags are easier to fit into tight spaces.
A waterproof waist pack will serve you well as your "fishing vest" while wading. Use it to carry extra flies, leader, sunblock, a camera and water.
Fly-Fishing Gear
Land the fighters of the flats with strong, light rods and reels with dependable drag.
Bring at least two high-quality fly rods that are specifically designed for saltwater. Four-piece rods will be easier to pack and transport. They can fit into carry-on luggage, which will help you avoid the inconvenience of lost or delayed bags.
Rinse off your gear with fresh water every evening to keep it performing at its best.
Fly Fishing Rods
Two 9-foot fly rods. 8- and 10-weight are the most versatile and popular. These will handle bonefish, small tarpon, barracuda and jacks. If you anticipate shots at large tarpon, add a 12-weight rod to your arsenal.
Fly Fishing Reels
High-quality reels with a disc drag in mid or large arbor are recommended. The hard fighting fish you'll encounter will put your reel to the test and you don't want to lose fish during your dream trip because of poorly made equipment. Often bonefish will make a run towards you, and you'll appreciate the rapid line retrieve of a large-arbor fly reel design. It's a good idea to practice removing and replacing the spool on your reel so you'll be prepared for any adjustments you may need on the water.
Fly Line
The reels should be loaded with 15-200 yards of 20 lb. backing in the 8-weight, and 30 lb. backing in the 10-weight. Tropical, saltwater weight forward floating fly line is recommended for bonefish and permit and barracuda. For tarpon, weight forward floating and intermediate sinking are used.
It's a good idea to bring extra spools of fly line in case your line is damaged or cut. Fly lines are rarely available at the lodges and there are few fly shops in the Bahamas.
Leader
Clear, fluorocarbon leader and tippet offer the best stealth and abrasion resistance.
For bonefish: 9-14 foot leaders tapered to 8-10 lb tippet. Bring an extra spool of 10 and 12 lb. tippet.
For permit: 10-12 foot leaders tapered to 10-18 lb. tippet. Bring an extra spool of 14 and 16 lb. tippet.
For tarpon: 4-6 foot leaders with fluorocarbon shock tippets. 16-20 lb. tippet with 60-100 lb. shock tippets. Bring an extra spool of 20 lb. mono and 80 lb. fluorocarbon shock tippet. Check with your guide before the trip, as large tarpon are only targeted during particular months.
Flies
Specific colors and details will vary depending on the area that you fish, but in general, these fly patterns are proven winners:
Gotcha
Crazy Charlie
Merkin Crab
Christmas Island Bonefish
Tarpon Toad
Malzone's Black Death
Fly-Fishing Clothing
Cover up, but keep it cool and loose.
Long days on a skiff or wading the flats on the best days mean extended sun without a breeze for relief. The worst days bring wind and rain. In either case, temperatures will remain in the 60's to 80's range. Fast drying, loose fitting fishing apparel will keep you comfortable and protected from elements and bugs.
Long sleeves and pants serve two purposes — sun protection and insect protection. I have experienced biting insects while wading in the water that feel like little fleas, so I always wear long pants.
Don't forget the tops of your feet and your hands. You'll be standing on the deck barefoot for long periods, so apply sunblock every few hours. I often wear socks – it may not be a fashionable look, but after experiencing blistered feet in the past, I'm willing to look a bit silly. Sun gloves also serve two purposes. They protect your hands from sunburn and your fingers from the friction of the fly line. You'll be stripping the line in repeatedly which can cause pain and cuts.
Fast-drying, breathable, long pants
Zip-off styles will do double duty as shorts and give you option as the weather changes during on days of fishing.
Long-sleeved, fast drying, breathable shirts
Bring along two or three fishing shirts. Bonefish are covered with an odiferous slime, which you are sure to get on your shirt. Though this is the sweet smell of success, it may not be popular with your boat mates or dinner companions after a couple of days. If you wear collared shirts, be sure to choose a style with buttons to keep the collar from slapping your face during boat rides out to fishing locations.
Hats and face protection
Lightweight wide brim fishing hats will help shade your face as well as your scalp. Remember, even if you have a full head of hair, your scalp can get burned. Buffs provide excellent neck and face protection. You'll be zipping across the flats in a skiff, so remember to use a chin strap for your floppy hat. A baseball cap can be secured by pulling your buff up over the crown.
Rain Jacket
Choose a lightweight, waterproof, windproof jacket in a light color. Dark, heavy wading jackets that may work on a trout stream will simply be too hot and stuffy in the humid, tropical climate. You'll find the wind protection useful on runs out to distant flats and back to the lodge.
Polarized Sunglasses
Eye protection is an essential addition to any fisherman's gear, regardless of where or how you fish. When hooks are whizzing through the air, there is a real danger of catching one in and around the eye. Not only do sunglasses protect your peepers, they can go a long way in helping you catch more fish. Because saltwater fishing on the flats is a sight casting game, choosing the right lenses is a must. Wear brown or copper colored lens for normal conditions on the flats, and an amber or yellow for cloudy, overcast conditions.
Additional Fly-Fishing Accessories
Little extras with big benefits
Sun gloves
Socks
Sunblock
Camera
Don't let another season pass you by without an action-packed and relaxing fly-fishing trip to the Bahamas.