Travel Guide: Alaska Small Ship Cruise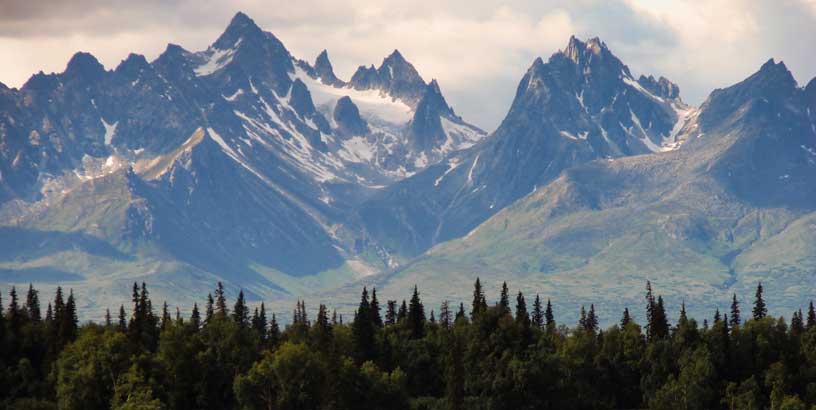 Navigating its way through Southeast Alaska's Inside Passage, the small luxury cruise ship puts you right in the middle of this jaw-dropping wilderness, so close you can reach out and touch it—with your fly-fishing line, your hiking poles, your camera's lens, or even your own digits. And however expansive and varied its interior, Alaska's coastline promises an embarrassment of riches for the marine life enthusiast, the angler, the outdoors adventurer, and the naturalist photographer.
Named a state in 1959, Alaska possesses the largest geographic area in the country (New York state fits inside it a dozen times over), with 665,000 largely unspoiled square miles situated at the extreme northwest of the North American continent. It is home to more than a thousand species of birds, fish, land mammals, cetaceans, and other marine life.
Rainforest, mountain, inlet, and glacier meet in Alaska's Inside Passage, an interior coastal passageway bounded on the northeast by British Columbia, and protected from the Gulf of Alaska by a chain of islands and sounds. The Inside Passage stretches more or less from the Canadian border in the south to the start of the Gulf of Alaska in the north, just above Juneau and the area around it. And while the Gulf of Alaska is a popular destination for large cruise ships, only small vessels can navigate the verdant and mountainous Inside Passage along Alaska's southeastern coast, a real treat for the traveler. Read on for a closer look at what to expect aboard a small ship adventure cruise in this extraordinary region.
Why Take An Alaska Cruise?
An Alaska cruise will open your eyes to the sheer vastness of the state, as you take in its emerald forests, snow-capped peaks, waterfalls, glaciers, and fjords: much of Alaska's coastline is still truly wild. And while the main attraction is the state's unspoiled scenery, there are still more reasons to cruise Alaska:
You can't drive there. Look at the map: to reach Juneau one must fly. And once on the ground, the best way to maximize your experience is to see Alaska's abundant offerings by ship.
A cruise gives you the best view. It puts you in the front seat, very close to "America's last frontier," miles and miles of the dense vegetation and mountains lining the Inside Passage. And some of Alaska's scenic wonders—the imposing glaciers calving icebergs that roar into the sea, for example—are best seen from a ship. You'll also have a spectacular view of the critters who tend to frolic around them: humpback whales, sea otters, et al.
The entire family will love it. As much as Alaska is a popular "bucket list" destination for empty nesters, it is also a family destination, so don't wait to go: lots of multi-generational families enjoy cruising Alaska together, an enriching experience for both children and adolescents (whale watching in particular appeals to the young ones). And Alaskan cruise season falls conveniently during summer break; consider a cruise the perfect get-together venue for the entire extended family.
Alaskan wildlife is exceptional. The bald eagle is but one example of the wildlife you're likely to spot on a cruise, to say nothing of hundreds of other bird species. Alaskan waters are home to 16 whale species, including humpbacks and orcas. Nor must you trek into the wilderness for wildlife encounters (unless you want to): you can see it all—perhaps even a brown bear fishing for salmon—from the comfort and safety of your ship's deck.
Ports of call are hotspots for native culture. Enjoy the rich heritage of Alaska's native peoples as seen in Juneau and Sitka, where towering aboriginal totem poles showcase the artistry of the Tlingit, Haida, and Tsimshian peoples.
In a nutshell, the advantage of cruising Alaska is compressing many of its rich offerings into one convenient package: it could take months if not years to enjoy the same experiences in Alaska by way of conventional travel.
The Benefits Of Cruising Alaska Aboard A Small Ship
Small ship cruises in Alaska promise the traveler a more intimate experience, with onboard naturalists who can explain the flora and fauna in the touring region, more and better opportunities to see wildlife, and enriching ship-to-shore excursions:
Small cruise ships have access to tighter spaces. Don't choose a small ship cruise for entertainment and amenities like a swimming pool or hot tub: the point of a ship this size is to get you to the places a big cruise ship can never reach, for example narrow fjords, uninhabited islands, and quaint ports of call. Its comparatively shallow draft allows a small cruise ship to nose up to sheer cliff faces, bird rookeries, bobbing icebergs, and cascading waterfalls.
Marine wildlife is more likely to come to you. Marine animals find smaller cruise ships less intimidating than a massive "floating city," so they're more likely to come closer for viewing. And the ship's deck is much closer to the water line, so you'll get a better view of what's swimming around in it.
Onshore excursions are part of the package. Relax aboard the ship if you wish, but these runouts yield enriching experiences for the visitor, including salmon fishing, glacier watching, kayaking with the seals, and observing bears and other mammals. In short, you'll get to explore more deeply the things you came to see in the first place.
The itinerary is flexible. You'll see more wildlife while you're cruising, and most small ships can also change course easily if a better viewing opportunity pops up nearby.
Expect smooth sailing. The islands on the western edge of the passage help protect the ships that navigate it from the rough seas in the Gulf, and thus seasickness is less an issue for passengers aboard the small ships that cruise it.
Only a small ship environment gives passengers the chance to get to know each other in relaxed, casual surroundings. Overall, expect a more personal experience that allows you to learn about nature and enjoy it: leave your blazer at the office where it belongs.
When To Cruise To Alaska
There is no year-round cruising in Alaska: cruise season runs May 'til September, when the weather is comparatively warm and the seas are safest.
Peak cruising season occurs during July and August, when there are more sunny days and temperatures are warmest—between 50°F and 80°F during the day, cooler at night.
June 21 is the longest day of the year: the sky is lit throughout most of the night.
May and September are the shoulder months, the travel period between peak and off-peak seasons. May cruises can be pleasant, especially if you get lucky and it's already warm. And locals tend to be friendlier coming right out of an isolated winter, but tire of tourists as the season wears on. Also, May is the driest month statistically for the Inside Passage ports.
Experienced travelers will tell you to expect the unexpected when you cruise Alaska: you might need a coat, hat, and gloves during a chilly July or August, or wear shirt sleeves in a balmy September. The rain can fall sideways, or the intensity of the sun can burn your skin; in the end you never know, so be prepared for anything.
Best Small Ship Adventures In Alaska
Fly Fishing & Conventional Fishing
Exceptional freshwater and saltwater fly fishing are yours for the taking in Alaska, together with conventional and light tackle fishing. Teeming with more than 600 fish species, Alaska's waters boast world class halibut and lingcod fishing, with catches of halibut and bottomfish possible from the shore. Salmon fishing begins in May and continues for the entire summer and into the fall; you'll find cod, salmon, and halibut in the ocean waters around the Prince of Wales Sound, nor is it uncommon to land massive trophy fish in Alaska. Expect to fish these species, along with Dolly Varden char, cutthroat trout, brook trout, and Arctic grayling, among others.
Whale Watching
Many species of cetaceans—whales, dolphins, and porpoise—inhabit or migrate through Alaskan waters. While the Bering Sea, Cook Inlet, and Prince William Sound provide habitat or migration pathways for beluga and bowhead whales, along with several pods of orcas (killer whales) and humpbacks, the Inside Passage in particular affords the visitor an opportunity to see orcas and humpbacks during most of the year, together with the occasional minke whale. Gray whales pass by the outer coast of the Inside Passage during their migration from Baja California to summer feeding grounds in the Bering Sea, but some elect to stay along the coast instead for the entire season.
Frequent encounters with Dall's porpoise, harbor porpoise, and Pacific white-sided dolphins are common in some areas, nor are cetaceans the only animals you might find: fur seals, walrus, Steller's sea lions, sea otters, river otters, and mink inhabit Alaska's waters, to say nothing of the plentiful marine bird species you'll spot.
Hiking
Most hiking opportunities in Alaska exist in the comparatively flat valleys left by the glaciers, with uphills defined primarily by gentle gradients, and rivers and streams with wide banks. Because of this topography, most hikes are relatively easy. Elsewhere a wide variety of terrain in Alaska promises a richly varied hiking landscape, including dense, moss-covered spruce forests, above-the-treeline rock and rubble, dramatic flower-covered glacial moraines, and washed-out river beds. August in Alaska presents an incredible canvas of wildflowers and a variety of lush ecosystems; you'll also have an excellent chance of encountering any of Alaska's non-human residents on a hike—your guide will advise you on safety protocols.
Kayaking
Climbing aboard a kayak puts you right at eye level with Alaska's natural beauty and wildlife. Best of all, even a novice can quickly learn the basics and get underway with paddle in hand. You'll be in the best possible place to view marine life just below the water's surface, to say nothing of cetaceans and other marine mammals, for example otters and sea lions, above it. Kayaking close to the shore affords views of wildlife including bears, goats, and moose, along with marine bird species. And because kayaks are quiet, the wildlife is likely to come closer to you.
While it does take some effort to pilot a kayak, it does not take much for a brief, leisurely out-and-back tour: if you can handle a good walk, you can handle a kayak. And if you're in a two-seater, your paddling partner will help share the work.
Wildlife Photography
Professional and amateur photographers alike will find no paucity of subjects on a small ship adventure in Alaska; possible sightings include birds, land and marine mammals, fish, and tide pooling creatures. Before you go, familiarize yourself with your camera equipment and how it works, and study up on the wildlife species you're hoping to shoot (practice at home on the birds at your backyard feeder or ducks in the local park).
Expert Tips For Cruising Alaska
Dress in layers. There are chilly breezes on the water, and nights can be cold even in summer. Wearing peelable layers is the key to comfort, and carrying a pair of fleece gloves on any hike is an excellent strategy. Expect wild variations in the weather conditions and be prepared for rain with a rain jacket. And bring clothing you don't mind dirtying: hiking, fishing, and kayaking are not spectator sports.
Respect the wildlife. You may have close encounters with Alaska's animals; they'll probably shy away, but keep your distance, especially if you observe mothers with their young. Bear encounters are possible; exercise due diligence. Moose are abundant in Alaska, and can be seen anywhere from the city streets to the backcountry; most of the time they're docile and tend to ignore people, but can become aggressive during the early fall mating season.
Take an Alaska cruise during shoulder season. Wildlife viewing is better during the shoulder season, especially in the spring; hibernation ends and mating gets underway in May and June. The animals also tend to be more active during the shoulder months: in the spring they like the cooler temps (and get out more often), whereas they tend to rest in the heat of the day during high summer. In the fall they begin foraging for winter.
Peak insect season is June and July. This is when you're likely to encounter Alaska's legendary mosquitoes, and also annoying noseeums and black flies. There's no health risks beyond allergic reactions, but you'll feel better if you keep your skin covered and use a DEET repellent.
Consider staying longer. Get more bang for your buck: attach a few extra touring days to either side of your cruise and see more of Alaska. Explore the capital city of Juneau, thence to the nearby Pack Creek brown bear viewing area, a protected area where brown bears live in their natural habitat, and home to the largest percentage of brown bears in one area. Or consider expanding your travel to include Alaska's breathtaking interior; Denali National Park and the Kenai River Valley are two must-see destinations.
Take a small ship cruise in Alaska for the fishing and kayaking, the hiking and the beachcombing, or simply to enjoy the abundant wildlife, but by all means, go. Call it a bucket list item if you wish, but a small ship adventure in Alaska beckons you to come again, and bring your entire family for an unforgettable journey: Alaska truly is America's last frontier.
You may also like:
What Do I Need to Travel to Alaska?