Travel Guide - Patagonia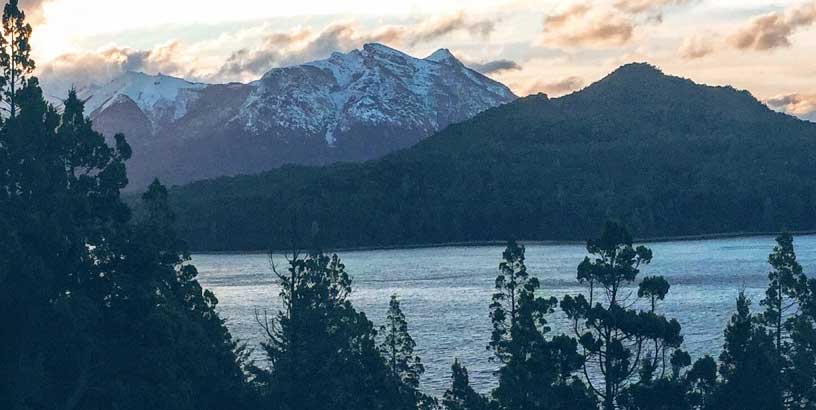 Had he not been preoccupied with proving the earth was round, Ferdinand Magellan might have taken up fly fishing in Patagonia, near where he first made landfall and encountered the Tehuelche people—the tall aboriginals he called 'Patagones' after a mythical character, it is rumored. Brookies, 'bows, and brown trout make Patagonia a prime destination for the impassioned angler, but this region—South America's southern frontier—offers an embarrassment of riches for any adventure-seeking traveler.
Where Is Patagonia?
While the exactitude of Patagonia's northern border can be argued, no one will question the enormity of the area as a whole, its 400,000 or so square miles encompassing the vast, southernmost tip of South America. Shared by Argentina and Chile, Patagonia straddles the awe-inspiring Andes Mountains, bounded by the Pacific Ocean to the west and the Atlantic to the east, with the Strait of Magellan slicing through its tip near Antarctica deep in the south.
Argentine Patagonia is broadly defined as the land south of the Río Negro, which meets the sea near the town of Viedma. Making up almost four-fifths of Patagonia as a whole, it consists mainly of vast reaches of arid steppe lain against the backdrop of the Andes—a mostly empty land whose vegetation has long adapted to its dry conditions. Further inland to the west, Argentina's celebrated RN-40 highway runs along a mainly north-south trajectory that parallels the Andes, passing the pinnacles of Monte Fitz Roy and Perito Moreno Glacier in Los Glaciares National Park.
Precisely where Chilean Patagonia begins is more difficult to pinpoint, but the region can be characterized as a kaleidoscope of jagged coastline, inlets, uninhabited islands, glacial fjords, and thick, temperate rain forests, and includes a lake district that mirrors Argentina's. Further south, Chilean Patagonia is characterized by steppe and low mountain ranges. Punta Arenas is a historic Chilean city near the Strait of Magellan, important for commerce before the opening of the Panama Canal; it is South America's southernmost city.
Why Visit Patagonia?
If you're not lured there already with the promise of exceptional fly fishing, go for the scenery and the wildlife. It's a fertile land for any angler to be sure—with various trout species in abundance—but there is more to see and do in the unspoiled wilderness of Patagonia. Established tourism exists mainly in the northern lake districts of Argentina and Chile and around Los Glaciares National Park (Argentina) and Parque Nacional Torres del Paine (Chile). Elsewhere is wilderness, so that is what you should expect and chiefly why you should go.
The most populated and developed areas of Andean Patagonia are the lake district of Río Negro and Neuquén Provinces. You'll find great spots there for base camps from which to strike out on hiking and fly-fishing expeditions, and for horseback riding, cycling, and naturalist photography. Chilean Patagonia is an outdoor enthusiast's dream, where trekking, cycling, kayaking, and rafting can all be enjoyed from any number of its villages, to say nothing of its copious opportunities for fly fishing.
Top Adventures In Patagonia
In Argentine Patagonia:
Horseback Riding: Riding is widely available in both Argentine and Chilean Patagonia, and deeply rooted in the culture. The original Argentine cowboys (gauchos) navigated the rugged terrain this way, and some insist there's still no better way to do it, however romanticized it is now. Explore any of Patagonia's vast backcountry astride a horse; most lodges and estancias will provide guides for horseback excursions into the areas surrounding them.
Parque Nacional Los Glaciares (Glacier National Park) in southern Argentine Patagonia: Visit one of Earth's most accessible ice fields with Glaciar Perito Moreno as its centerpiece, in the park's southern sector. This glacier curiously advances up to six feet daily, invoking building-sized icebergs to calve from its face. As paradoxical as it seems, this is a sedentary activity that falls squarely within the 'thrilling adventure' realm. This is one glacier in the world currently considered stable—you can get close enough to witness this phenomenon as a front-row spectator, but still stay a safe distance from harm.
Monte Fitz Roy: The northern reaches of the park treat you to the jaw-dropping Fitz Roy Range, known as the de facto trekking capital of Argentina. Monte Fitz Roy is an 11,000-foot peak towering over El Chaltén (meaning 'smoking mountain' in the ancient Tehuelche dialect). Sir Robert FitzRoy, for whom it is named, was the sailor who guided Charles Darwin into South America aboard the HMS Beagle. This is the highest peak in the park, and hiking it is not for a novice. But while it attracts thrill-seeking climbers with its milestone ascents, there are plenty of well-marked trails for non-extremists who simply want to take in the scenery.
Parque Nacional Los Alerces: The main event in this collection of creeks, mountains, and mirror lakes is the alerce tree (Fitzroya cupressoides), one of the oldest species on the planet (some specimens have survived 4,000 years). These trees are not unlike the giant sequoia in California, growing only about a centimeter every 20 years. It's easy to overlook this park in lieu of others in Patagonia: you won't regret the effort.
El Chaltén: In southern Argentine Patagonia, this is a small town neighboring Monte Fitz Roy. It is a prime area for hiking, rock climbing, and horseback riding in the surrounding mountains—in the Río de las Vueltas valley, or up the Vizcacha hill if you want a more challenging ride. You can also access UNESCO World Heritage site, the Cave of the Hands (Cueva de las Manos) from this area; touring the cave gives you a glimpse into Patagonian prehistory via the celebrated polychromatic paintings and handprints of aboriginal populations dating to 10,000 BCE.
Cerro Catedral Ski Resort: Near Bariloche, both cross-country and downhill skiing are available here, along with sledding and snowmobiling. This destination appeals mainly to the winter sports enthusiast, but if you go between December and February you'll also find ample hiking, trekking, and mountain cycling opportunities.
Tip: Argentina is fertile territory for cycling, whether casually or for the serious cyclist. Most towns have bicycle rentals at reasonable rates. But be advised that dedicated paths are rare. Be careful in the road, and bring spare tubes and a pump, especially if you plan to ride on unpaved surfaces.
In Chilean Patagonia:
Parque Nacional Torres del Paine: It's the centerpiece of Chilean Patagonia, one of the most scenic hiking destinations in the world, with jaw-dropping vistas that include blue-green lakes, dense forests, Glacier Grey, and Cuernos del Paine. You'll also observe guanaco, condor, and sheep while hiking. The two most picturesque trails are the renowned 43-mile "W" and the "Circuit." "W" is a four-day hike that zigzags around the mountains; the hiking is not difficult, but expect wind. The "Circuit" encompasses the entire park and requires seven to ten days for an experienced hiker.
Coyhaique: This is a quaint village situated under a basalt cliff, surrounded by rolling hills and emerald lakes, and boasting dramatic vistas from every angle. Coyhaique sits in prime fly-fishing country, known for its burgeoning trout and salmon populations. It is also home to the Feria Artesanal, an outdoor street fair of colorful wares. Coyhaique presents a multitude of activities for outdoor enthusiasts in addition to its fly fishing, including horseback riding and rafting.
Other Chilean adventures include kayaking the Strait of Magellan, or zipping across Grey Lake in a Zodiak watercraft to get better acquainted with Grey Glacier. Or hang out with Chilean gauchos astride a horse at a family-run ranch for a day among the fjords.
Patagonian Culture And Cuisine
History
Pre-Columbian human activity in Patagonia reaches tens of thousands of years into the past, possibly as early as the 10th millennium B.C. From that moment forward the region has seen waves of migration by various cultures, some of the most telling evidence within the renowned Cueva de las Manos. Later pre-Columbian inhabitants included the indigenous Tehuelches Ferdinand Magellan encountered and named "Patagones," whose population was all but wiped out after the first European contact. By the late 1500s, a group of Chilean Mapuche-speaking agriculturalists were able to penetrate the Western Andes, thence across the eastern plains and to the far south; they dominated others in both technology and war and remain the principal indigenous community today.
While other European explorers reached Patagonia in advance of Ferdinand Magellan, he was the first to fully describe the region in 1520, after making landfall in the southerly landmark of Puerto San Julián. A parade of other notable Portuguese and Spanish explorers arrived in Patagonia at various times, as well as English sojourners on land-grabbing expeditions. Scientific exploration followed from the mid-eighteenth to mid-nineteenth centuries, during which time various surveys of the landscape and people were undertaken by the likes of Charles Darwin and Robert FitzRoy, among others.
Argentina granted dissident Welsh settlers the rights to land in the coastal Chubut province in the 1860s, together with Scottish settlers in the decades following, who moved along with their herds of sheep to the Patagonian steppes to produce wool. Chile responded in kind with an invitation to various Europeans, but mainly Germans, to settle in the south.
Today's Patagonia is a vibrant melting pot of German, Italian, and Swiss settlements, Anglophile ranch owners, ruddy Welsh faces on the Atlantic Coast, and modern-day descendants of indigenous populations. Horseback riding is huge in Patagonia, and is seen as a way of life in Argentine Patagonia especially, with its beloved tradition of the estancia reaching back nearly two centuries. In fact the region's ranches have remained practically untouched by urban development, and mainly self-sufficient; they are not to be missed on any adventure travel to Patagonia.
Food
Patagonian cuisine is a big part of any adventure there, most especially at any of Patagonia's celebrated estancias, where you're likely to be served a sampling of authentic fare.
Meat: Beef (asado) is Argentina's national dish and the mainstay of the Patagonian gaucho's diet in both Argentina and Chile, as it is for American cowboys. But parrillada, a mixed grill, will also include mutton and lamb, goat, pork, and wild boar or llama, occasionally chicken. Cordero al Palo is arguably Patagonia's most authentic food, a renowned dish, and a must for any impassioned carnivore who visits the region: lamb is cooked long and slow on a spit over an open log or charcoal fire for several hours, rendering the outside crisp and the meat tender enough to fall from the bone. It possesses a distinctive smoky, mouth-watering aroma.
Fish: Because of its topography—woven through with glacial fjords, and surrounded on three sides by oceans—Patagonia delivers a bounty of fresh fish. Look for trout and salmon, affording opportunities for both fly fishing and fine cuisine.
Empanadas: These small fried or baked pies are available everywhere. They are most often filled with meat (Magellanic lamb tastes exquisite in empanadas), but can also be stuffed with chicken, cheese, tomatoes and peas, and even potatoes. They're easy to hold in your hand, so they may be served at a lunchtime picnic or as a dinner appetizer. They also come in a dessert variety, filled with dulce de leche and sprinkled with cinnamon. They probably started as a convenient portable lunch for gauchos, but remain a culinary basic everywhere in Argentina, even at the most luxurious estancias.
Mate: The tea ritual came to Patagonia with the English and the Welsh, and there it remains. When you return to your estancia after a day of adventure you'll probably find a tray of biscuits and cookies and a pot of black tea awaiting you. You might also find mate, a brew of highly caffeinated yerba mate leaves made in a special round bombilla and sipped through a metal straw; it may be an acquired taste, but you should try it at least once as part of your Patagonian experience.
Other Patagonian Fare: The oenophile in your group will not want to miss Patagonian wines; distinctive reds from the region include Cabernet, Malbec, Merlot, and Pinot Noir. You'll also encounter interesting street food: look for choripan, a type of sausage slider or sandwich, and bondiola, a sandwich of pork shoulder. And don't underestimate Argentine pizza: the Italians introduced it to Buenos Aires, but the Argentines have made it their own with local flavors that vary from place to place—the dough is thin, firm, crunchy, and light.
How To Get Around In Patagonia
Overland trips are best undertaken as part of your travel package with a private transfer, or by bus.
Because Patagonia is vast—and you may wish to explore specific destinations in its far reaches as part of your adventure—domestic flights can be helpful, saving you as much as an entire day. If you wish to access remote areas, consider renting a car. If you plan to keep your adventure fairly local to your accommodations, the bus is the most common, uncomplicated type of ground transport in Argentina.
Getting Around by Bus: Most are modern, plush affairs that get you from place to place uneventfully and in comfort. Some coaches offer snacks and even hot meals, included in the fare. Expect the bus to be over-air-conditioned and bring a sweater. Coaches in Chile come luxuriously equipped with comfortable reclining seats, plentiful legroom, and food service on some lines. Long distance bus service in Chile is competitive and fares are low.
By Air: Domestic flights depart from Buenos Aires to all of Argentina's domestic capitals and major tourist destinations. This is the quickest way to see the most, if you have an ambitious trip planned. Book as far in advance as you can if you plan to go during Patagonian summer, as you may be met with full flights if you wait. Note: it's not out of the ordinary to experience disruptions in service because of volcanic eruptions in the Andes.
By Car: You won't need a car unless your Patagonia travel package does not already include ground transportation to the isolated reaches you might wish to explore. The best way to travel by car in Patagonia is to get a group together to share the driving. Know that only about 30 percent of Patagonia's roads are paved; expect copious potholes if you travel this way. Also expect mud after rains; while a 4x4 is not usually necessary, you may find one helpful, especially for navigating mountain passages in the snow. You must be over 21 to rent a car (some agencies say age 25) and hold a driver's license—an international one is not typically required in Argentina, but in Chile it's advisable to carry one. Bring your credit card and passport, and don't pull away without insurance, tax, and ownership papers.
By Taxi: You can use a conventional urban taxi which you hail like you would anywhere, or a remise: a minicab radio taxi you must book by phone or at their booth. Conventional taxis operate on a meter, and remises have fixed rates—they are less costly than urban taxis for out-of-town travel. The remise is an attractive alternative to car rental; it's probably less expensive, someone else does the driving, and you can see more along the way (the driver will probably point out things for you). You may also encounter shared taxis (taxis colectivos), which run on fixed routes between points and leave when they're full. They're more convenient than taking the bus, and only a tad more costly; you pay only your share of the ride.
Avoid the Train: The rail system in Argentina collapsed in 1993 when the government subsidies were removed, and rail travel leaves much to be desired. The only trains worth taking are the tourist trains, where the purpose is merely to have fun and see the sights. From Esquel, the steam-powered 'La Trochita' train, also known as the Old Patagonian Express, still offers weekly departures.
Patagonia Takeaways
Butch Cassidy famously went there to hide, Ferdinand Magellan to seek, Charles Darwin to study, and Bruce Chatwin to write. However Patagonia speaks to you, it has much to say: it is a land of abundant opportunities for the angler, the explorer, and the accidental tourist alike. It may lie very nearly at the end of the world, but Patagonia's treasure trove promises an unforgettable journey for the adventurer. And local legend holds that whoever consumes a native calafate berry will return to Patagonia: when you go, be sure to drink the proverbial juice—that's a destiny any adventure traveler would embrace.
You may also like:
10 Experiences Not To Miss In Patagonia
What Do I Need To Travel To Patagonia