When To Visit Patagonia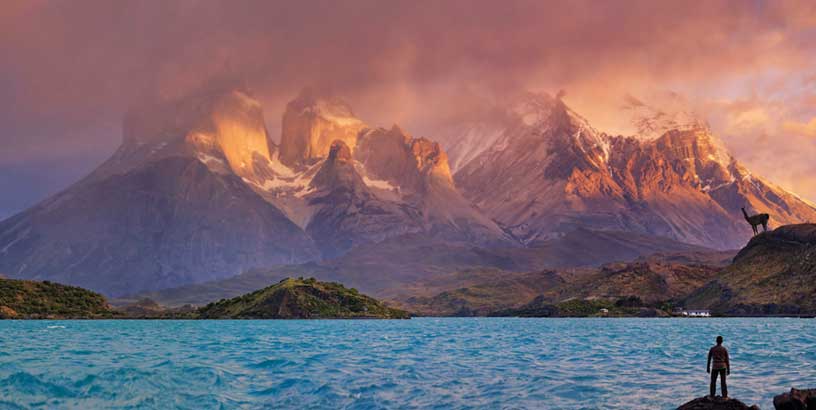 The seasons are reversed in the Southern Hemisphere, so for fairest weather traveling, visit Patagonia any time in the southern spring to mid-fall, between mid-September and early May.
Spring comes to Patagonia in September, October, and November, and brings with it colorful carpets of new blooms, but it's still possible to encounter biting winds and overcast skies—pack wisely; daytime high temperatures average around 50°F, lows around 37°F. Spring presents excellent opportunities to enjoy a quieter landscape ahead of the summer tourist traffic.
Summer in Patagonia occurs between December and February—the warmest time of year, with average highs around 68°F, and lows around 44°F. But summer is also the windiest season, with winds occasionally gusting over 120 miles per hour. And while the summer months promise the most warmth, it's all relative: expect temperatures to go above 70°F only rarely. Crowds are thickest (relatively speaking) in summer, lodges fill up, and prices are higher in general.
Fall temperatures are about like spring's, but winds are a bit calmer during these months (March, April, and May), and summer's crowds begin to thin and prices to fall: it's an excellent time to explore, and Patagonia's fall foliage is exceptional starting in April.
Winter comes to Patagonia June through August and is attractive mainly to winter sports enthusiasts, with highs averaging around 39°F, lows around 30°F. But don't rule out a day hike during these months: if you can find an accessible trail, you're likely to encounter some of the region's most picturesque landscapes now.
Timely Travel Tips
Pad your Patagonia trip with extra time to improve your chances of fair-weather days. Temperatures fluctuate in Patagonia without warning, and violent storms are known to sweep in from the Pacific in spring and early summer. But winds are calmer in the comparatively cooler shoulder seasons of spring and fall, and these months present the best travel deals and fewer crowds than in high summer.
If Torres del Paine is on your to-do list in Patagonia, you'll want to avoid winter: the Paine "Circuit" and "W Trek" close for extreme weather. And be prepared for all conditions no matter when you visit the park—weather is changeable and impossible to predict (the park rangers implore you not to ask them). If you're there for the hiking, November and April are the best months to avoid heavy backpacking crowds in Torres del Paine.
Book your flights six months in advance. This is especially true for Patagonia adventure travel during the high tourist season of summer.
Beware of the biting midges in Chile. If you go in the summer, use insect repellent at regular intervals, or wear bug-repellent clothing.
When you choose to visit Patagonia will influence the nature of your adventure there to be sure, but any time of year promises an unforgettable trip, if only for immersion in this South American frontier's sweeping panoramas, natural phenomena, and distinctive culture. There's no time like the present to plan adventure travel to Patagonia.
You may also like:
10 Experiences Not To Miss In Patagonia
What Do I Need To Travel To Patagonia