What Do I Need To Travel To Patagonia?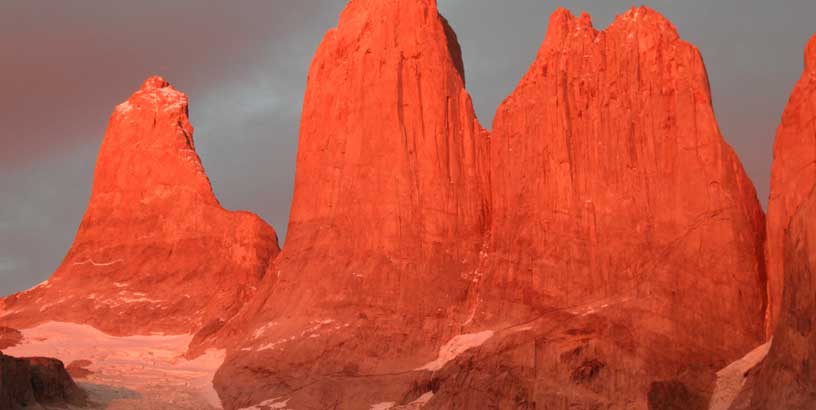 The short answer to this question is, you don't need much 'official' documentation beyond a valid driver's license and passport to travel to Patagonia, with perhaps a healthy morsel of wanderlust thrown in for good measure. The region is massive, a 400,000-square-mile area that includes land in the 'string bean'-like Pacific coastal country of Chile and the vast, arid steppe of Argentina reaching to the Atlantic, with the Andean mountain range serving as a backbone of sorts. But it's politically stable and friendly to visitors. And if your travel plans include time fly fishing or adventuring in both countries, going back and forth between them should be fairly uneventful. Read on for specifics.
Entry And Exit Requirements
Do I need a passport to visit Patagonia?
Yes. To enter either Chile or Argentina requires a passport valid six months beyond the date you expect to depart for home. Border crossings between Chile and Argentina should be uncomplicated so long as you carry a valid passport and don't try to sneak forbidden food into Chile (gobble up your honey-soaked granola bars before you cross). Chile is extremely strict about produce, cheese and meats coming into the country. Expect your luggage and vehicle to be searched for these items.
Do I need a tourist visa in Patagonia?
No. With a valid US or Canadian passport you won't need a visa to enter either Argentine or Chilean Patagonia for tourism or business travel up to 90 days.
Are there entrance fees for visiting Patagonia?
No. There are no entrance fees for visiting Chilean Patagonia, and Argentina recently waived its $160 entrance fee for Americans. Canadians who visit Argentine Patagonia must pay a $78 reciprocity fee.
Do I need to show a return ticket for travel to Patagonia?
Most likely not, but you'll probably want to carry one to be safe; chances are slim you'll be asked to show it.
What are the customs requirements in Patagonia?
Chile has fairly rigid importation laws owing to a strident national desire to protect the country's natural resources. You can bring in some food items, including chocolate, but no dairy products nor anything that could be construed as a legume. Nuts must be dried, salted, preserved, and well packaged; honey is forbidden. Declare any food item (or anything that might have been alive at one point) to avoid being fined—edible products of animal origin, flowers, fruits, and vegetables are permitted only with a certificate issued by the Department of Agriculture in the country of origin. You may not carry these items as hand baggage onto the plane. Any travel-related merchandise you bring into Chile is not taxed (e.g., personal effects); additionally you may import 400 cigarettes, 500 grams of pipe tobacco or 50 cigars, and 2.5 liters of alcoholic beverages per adult ages 18 and up. You can export $800-worth of merchandise from Chile duty-free every 30 days.
You may bring into Argentina personal effects, along with 2.1 liters of alcohol, 400 cigarettes, 50 cigars, and 5 kilograms of food, all duty free. You can export $800-worth of merchandise duty free every 30 days.
Are vaccinations required to visit Patagonia?
While illness is generally not a problem when you travel to Patagonia, the Centers for Disease Control and Prevention (CDC) recommends making sure you're current on routine vaccinations before you go, and getting Hepatitis A and Typhoid vaccinations for travel to both Chile and Argentina; consult your physician. Bringing double the prescription meds you'll need for the duration of your trip is also smart. While most prescription medications are available in Patagonia, drug brands and quality may vary.
Do I need a fly-fishing license in Patagonia?
Yes. If a license is not included in your Patagonia travel package, you must purchase one to fly fish in both Chile and Argentina. In Chile, visit a municipal Sernapesca office and ask for the Licencia de Pesca Recreativa. Expect to pay in the neighborhood of $65 for a one-year license that covers recreational fishing in all of Chile's freshwater and saltwater venues.
In Argentina, you can buy a license at fishing tackle shops and select municipal information centers. A full-season license costs around $80, or $60 for a week-long license. Additional permits are required for sea-run brown trout in Tierra del Fuego, and for some other specific locales.
If you are staying at a lodge that offers fishing, the fishing manager at the lodge will be able to arrange to purchase of a license.
Tip: In both Chile and Argentina, the paper on which the license is printed is poor quality; you may be able to find a local vendor who will laminate it for a couple of dollars.
Expert Tips For Travel to Patagonia
Get full medical and trip cancellation insurance. Carry proof of it with your other travel documents.
Avoid drinking tap or well water. This is true in both Chile and Argentina; opt instead for sealed bottled water or water that has been disinfected. This applies to the ice cubes in your drinks, too.
Brush up your lengua Española. But also know that English is widely spoken in Patagonia.
Other Useful Information
Currency
The Chilean peso is the official currency in Chile, the Argentine peso in Argentina. A note about Chilean pesos: carry small bills with you as local businesses can rarely make change for anything over 5,000 pesos.
Insofar as exchanging currency, you'll get the worst rate at your home bank. If you want to arrive in Patagonia with cash in hand, get only what you need for the first few hours. A better strategy is withdrawing cash from an ATM in Chile or Argentina using your debit card (ask your bank before you go whether to expect a fee for international transactions); an ATM will give you the official exchange rate so you needn't worry you've been soaked. And Chile does not charge an ATM fee to foreigners. But try to make a cash withdrawal on a weekday because ATMs are not restocked on weekends. Traveler's checks are accepted in some establishments in Patagonia, but only carry them if it makes you feel more secure (and certainly don't make them your only currency); Visa, MasterCard, and American Express are a much better bet, widely accepted in both Argentine and Chilean Patagonia.
Tip: Your American dollar is welcome at many establishments in Argentina, where it is viewed by the locals as an investment.
Time Zones
Chile Standard Time (CLT) is the same as Eastern Daylight Time in the US; Chile moves the clock forward one hour in mid-August to begin Daylight Saving Time, and turns it back one hour in mid-May to end Daylight Saving Time. Argentine time runs one hour later during CLT, but Argentina does not observe Daylight Saving Time as Chile does.
Language
Spanish is the primary language in both Chile and Argentina, spoken in a distinctive dialect that somewhat mimics the lilting cadence in spoken Italian. In Argentine Patagonia you may also hear a multitude of other languages, including Italian, German, English, and French. And in either country you might encounter the distinctive languages of indigenous populations.
Electricity
In both Chile and Argentina the standard voltage is 220V, and the standard frequency is 50Hz. Argentine power sockets are types C and I, Chilean types C and L: you'll need a power plug adapter and a voltage converter in both countries.
American Embassies
Get your papers together and pack your bags (wear sunscreen and dress in layers): with so many not-to-miss experiences for sportsmen and outdoor enthusiasts of all stripes, adventure travel to Patagonia promises to be an unforgettable experience.
You may also like:
10 Experiences Not To Miss In Patagonia