For Saravanan Sankaran—Fishing Manager of Orvis Asheville, in western North Carolina—the holidays are built around a unique background that intermingles a wide variety of influences. Growing up outside Altoona, Pennsylvania, Saravanan enjoyed an upbringing that combined cultural influences of the East and West. His parents emigrated from the South Indian state of Tamil Nadu in the 1970s, eventually landing in central Pennsylvania, where Saravanan's father established a medical practice. His two older siblings were out of the house by the time Saravanan was six years old, leaving him as a lone Indian kid in a rural community. Time spent in the outdoors became his escape and his entry into a rewarding local culture.
Altoona is surrounded by mountains, woods, and waters, and his friend's father took Saravanan under his wing, introducing the boy to fishing, hunting, and spending time in nature. According to Saravanan, these "Pennsyltuckian adventures" helped him develop a love of being outside, but they also had another important effect.
"I didn't realize it at the time," Saravanan says, "but becoming a fisherman and a hunter really helped me fit in. It's like a great equalizer in that part of the country and allowed me to relate to other people."
"I was always trying to balance my parents' culture with my own. I think that's what drew me to bluegrass and old-time music—it was a music of identity, of my American identity. By learning it and playing it, I could assert my ownership over my country and develop a sense of belonging."
His other passion—from a young age he trained to be a classical vocalist—could not have been more different. By the time he was a teenager, Saravanan had sung with the Pittsburgh Symphony, and he went to college to further his vocal studies. The world of classical music is a competitive, high-stress pursuit, and according to Saravanan, "Bluegrass was what I played to blow off steam."
"For me, being born and raised in Appalachia and having ownership over its culture is as formative and important to me as my family's Indian heritage and culture," Saravanan says. "I was always trying to balance my parents' culture with my own. I think that's what drew me to bluegrass and old-time music—it was a music of identity, of my American identity. By learning it and playing it, I could assert my ownership over my country and develop a sense of belonging."
Eventually, his love of the traditional genre—which also seemed to combine his love of the outdoors with his passion for music—led him to move to the mountains of North Carolina, where he has played in nationally touring bluegrass bands, such as the Dixie Bee-Liners, and now, Unspoken Tradition.
Unspoken Tradition Live at the Orange Peel, Asheville, NC
Hosted by WNCW as a benefit for Habitat for Humanity, December 13, 2019. "Nothing But Sky" from the album Myths We Tell Our Young.
For holiday celebrations, Saravanan, his wife, Amber, and their one-year-old daughter, Uma, consider themselves lucky to have two families—their actual relatives and their "music family"—each with their own traditions. When the Sankaran clan gets together, it's all about the food.
"While you're eating one meal, you're already talking about the next," Saravanan says.
His parents have always stressed the importance of coming together as a family, as part of the American experience, and the celebrations are cross-cultural feasts.
"My mom loves holidays because she gets to cook for everyone," Saravanan explains. "Her special dishes are dosa, a traditional South Indian rice pancake; chicken curry; and idli, a savory rice cake." Saravanan makes the turkey, his sister, Veda, makes her famous sweet potatoes, and there are usually lots of pies, as well—bourbon pecan and pumpkin are among the favorites. Veda, his brother, Senthil, and their kids and spouses complete the gathering.
After dinner, it's time to make music. Saravanan's nieces are accomplished singers, guitarists, and pianists, and someone usually picks up a ukulele, as well. Veda and her girls also love to sing, and the makeshift family band play a wide range of music, from classical to pop, and from Broadway's Hamilton to bluegrass.
Of course, music is also at the center of celebrations with Saravanan's other "family." In the dozen years since he landed in Asheville, Saravanan has become part of a vibrant community of bluegrass and old-time musicians. Since Uma was born, it's been more difficult for Saravanan and Amber to travel, and now COVID-19 restrictions have made the home fires burn even brighter.
This year's "Friendsgiving" celebrations bring together the folks in Saravanan and Amber's "bubble"—many of whom are friends from what Saravanan jokingly refers to as the "Golden Era of Asheville," before it got discovered by the wider world. These gatherings reverse the priorities of the Sankaran-clan holidays, and it is very much a music-first approach. When almost everyone in attendance is an accomplished musician, impromptu jam sessions and song circles are inevitable.
But Saravanan also likes to bring a little Indian flair to these events, phoning his mom from the kitchen to make sure he's preparing the dishes just the way she would. Throughout his life, he's become an expert at balancing two cultures at the same time, and the resulting holiday traditions are expressions of where he comes from, where he is now, and where he's headed in the future along with his wife and daughter. You can't really get more authentically American than that.
Saravanan's sister, Veda, is a chef and recipe creator (her website is Jasla by Veda), and she was kind enough to share this recipe for a dish that is as close to a "family recipe" as it gets.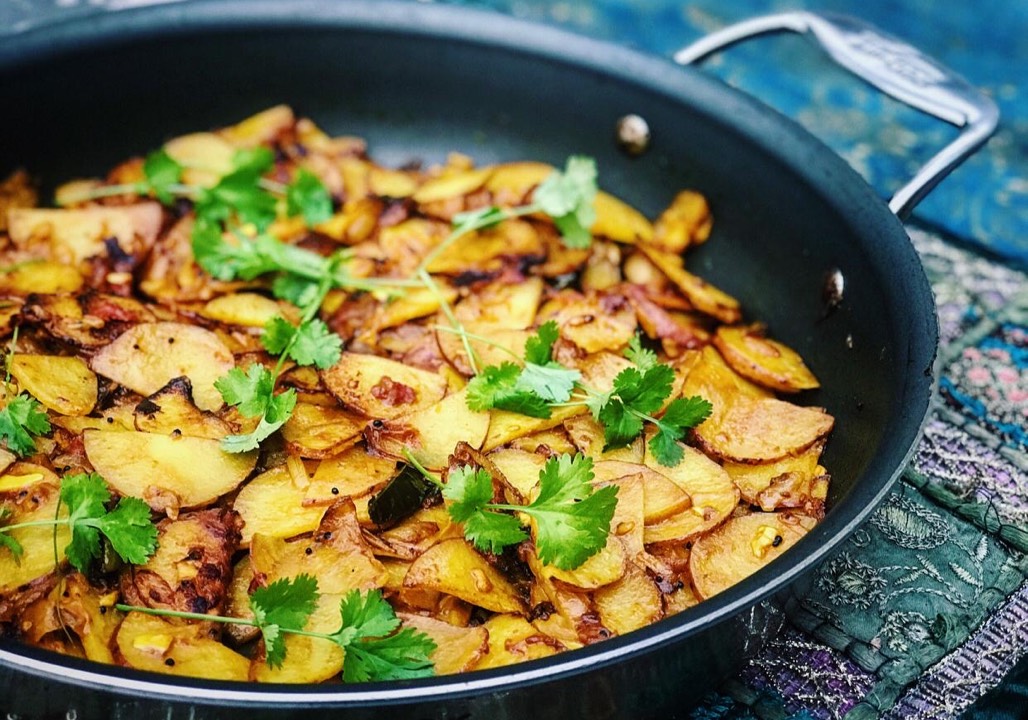 Ingredients:
5 medium red potatoes, cut in half lengthwise and thinly sliced
1 small onion, cut in half, sliced thinly lengthwise and then cut into ½ inch pieces
5 large cloves of garlic, peeled and crushed into a paste
½ tsp. black mustard seeds
½ tsp. cumin seeds, roughly crushed
6 fresh curry leaves
5 shakes of asafoetida
¾ tsp. turmeric
1½ tsp. coriander powder
1 tsp. chili powder (or to taste)
½ tsp. tamarind paste
2 tbsp. of diced fresh or canned tomatoes
½ tsp. turbinado or brown sugar
Squeeze of lemon juice
Handful of fresh cilantro chopped for garnish
Salt to taste
Rice bran oil or olive oil
Instructions:
Heat a large flat-bottomed pan, preferably non-stick. Add enough oil to coat the bottom.
Once the oil is hot enough, add the mustard seeds and wait for them to start popping. Once they slow down, add the crushed cumin and within a few seconds, add the curry leaves.
Next, add the thinly cut onions with a sprinkle of salt. After about 2 minutes, add in the crushed garlic and stir.
Sprinkle with the spice powders—turmeric, coriander powder, and chili powder. Stir and cook for a minute. Then, add the tamarind paste and stir again.
Push the onions to the sides of the pan and pour a little more oil in the center. Add the diced tomatoes and the sugar and cook for a minute. Then, stir everything together and spread the onion mixture evenly in the pan.
Place the thinly sliced potatoes in the pan, shake the asafoetida over them, and stir to coat with the spiced onion mixture. Then spread the potatoes in as close to a single layer as you can in the pan.
Squeeze a little lemon juice over the potatoes and sprinkle with a little more salt. Pour enough water to barely cover the potatoes. (About 1 to 1 ½ cups)
Cover with a lid and cook on medium low heat, occasionally opening to gently flip the potatoes over. Once the water has evaporated and the potatoes are cooked through, add more oil and turn up the heat to lightly brown the bottoms. Taste for salt and add if necessary.
Take off the heat, squeeze a little more lemon juice, and sprinkle with the chopped cilantro before serving.