In today's fast-paced world, anticipation is often synonymous with anxiety. We've become so conditioned to know exactly what to expect from an experience, and so obsessed with how we capture and share an experience, that we lose sight on how to be present in a moment. A road trip is the antidote to this usurped version of anticipation. It invites us to find comfort in the unknown instead of shying away from it, to crave spontaneity over predictability, to take in each moment for exactly what it is, and to find peace and freedom and joy in the simple details like the smell of wild sage or the tiny tracks left by a dung beetle walking across desert sand. Travel nurse Kellie Hall and freelance designer Pete Johnson live for life on the road. So, it is no surprise that they make the most of their flexible work schedules by adventuring around the American west in their 1976 Dodge Sportsman Camper van (enthusiastically called Uncle Rico).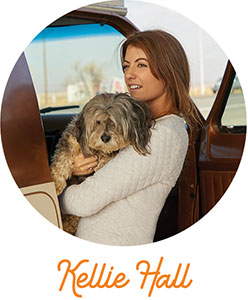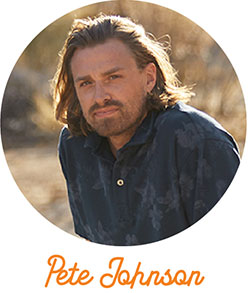 In anticipation of spring, joined by their traveling terrier Roxy, Kellie and Pete took the long road from Palm Springs, California, to hunt trout on Arizona's Colorado River. Along the way, they scrambled over granite boulders in Joshua Tree National Park, sang karaoke with locals in southern California, ran down the Kelso Dunes in the Mojave Desert, watched California Condors in flight in Glen Canyon, and caught the sunset at Horseshoe Bend. Each day they were reminded of how much of life is hidden until you slow down and give nature time to share her secrets with you.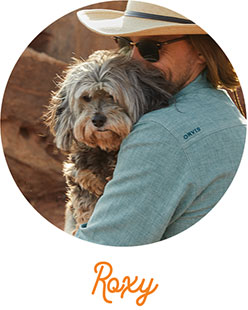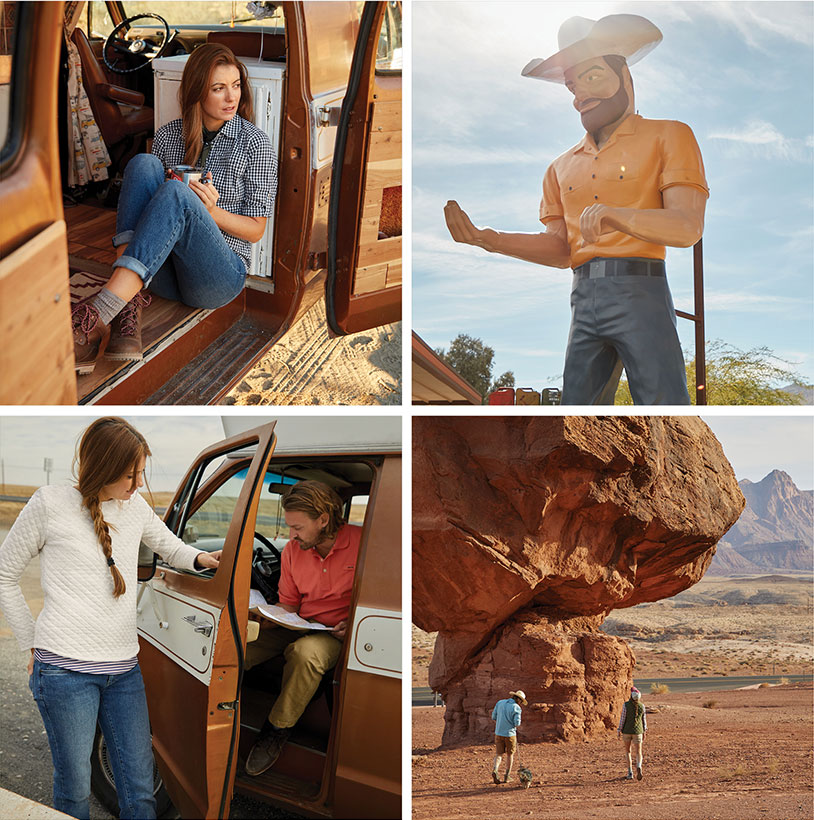 Less is more makes for thoughtful packing
Keep a pair of hiking boots, sandals (and something in between) handy for unplanned adventures
Always pack swimsuits—no matter the season or temp, there is always a hot spring or cool lake to jump into if you look hard enough
Save space with multi-use items like a good multitool, an all-in-one utensil, and reusable everything
Invest in devices and lights that can be solar charged (when driving, put them in a window to charge up)
Make your bed cozy. We always have pillows and a comforter from home (an easy way to make the van feel like home)
A good burner/cook stove is clutch
Invest in a YETI cooler: it keeps food cold for days
One YETI® cup per person—it keeps coffee warm and water cold
Plenty of lights make a big difference
Don't forget the essential details—first aid kit, toilet paper, your fly rod
"Getting creative with storage in the van was an important task when we renovated it. We are constantly recreating and changing or adding compartments or hooks to better organize and store things."
From the uninviting yet tempting deserts of California to the red Navajo sandstone of northern Arizona's canyons, Kellie, Pete, and Roxy never hesitated to take the long road, to stop and explore, to be driven by impulse, to stray off the beaten path. They blurred their eyes to find animal shapes in the boulders of Joshua Tree, then sharpened their vision to discover the many shades of purple in the desert cacti. They embraced the mythical and hallucinogenic nature of the desert as they wandered among shaggy Joshua Trees, and skidded on their heels down the sand dunes in the Mojave. They took the time to watch the moon rise, even when it meant having to set up camp in the dark. And they gave themselves space and silence to appreciate the perspective offered when you watch a setting sun transform the colors of a canyon wall. They began each morning drinking coffee, observing the world wake up around them, and ended most evenings drinking draft beers with locals or sipping bourbon while studying maps. They approached the open road with the same patience that they do a river and embraced the road trip for its greatest offerings: the joy of expectation, the excitement of first impressions, and the freedom of spontaneity.
Always check State and National Park guidelines (many do not allow dogs beyond the paved road or on hiking trails)
Bring a dog bed if you can fit it. We bring Roxy's bed, so she has her own place to den with her own smells, and it reduces travel anxiety
Prepare for the weather—pack portable shade and lots of water as well as jackets or sweaters
Always pick up after your pup (so bring plenty of poop bags!)
A collapsible water/food dish is a must. You can clip it onto anything; it packs flat and will not take up much room or add weight
Pack a nice long leash, so you don't spend the entire time you're camping chasing after the dog
Know your surroundings—research local veterinarians while planning your trip or while on the road (before you lose cell service!)
The adventure ended, where it often does, with a day on the water. They floated and waded the Colorado, chasing rainbow trout from dusk till dawn with stops to watch bighorn sheep scale the canyon walls, to visit ancient petroglyphs, and to dig into a fried chicken picnic lunch on a sandy river bend. At the day's end, they unloaded the boat, hung their waders on Uncle Rico's rearview mirror to dry, and swapped out wading boots for Chacos.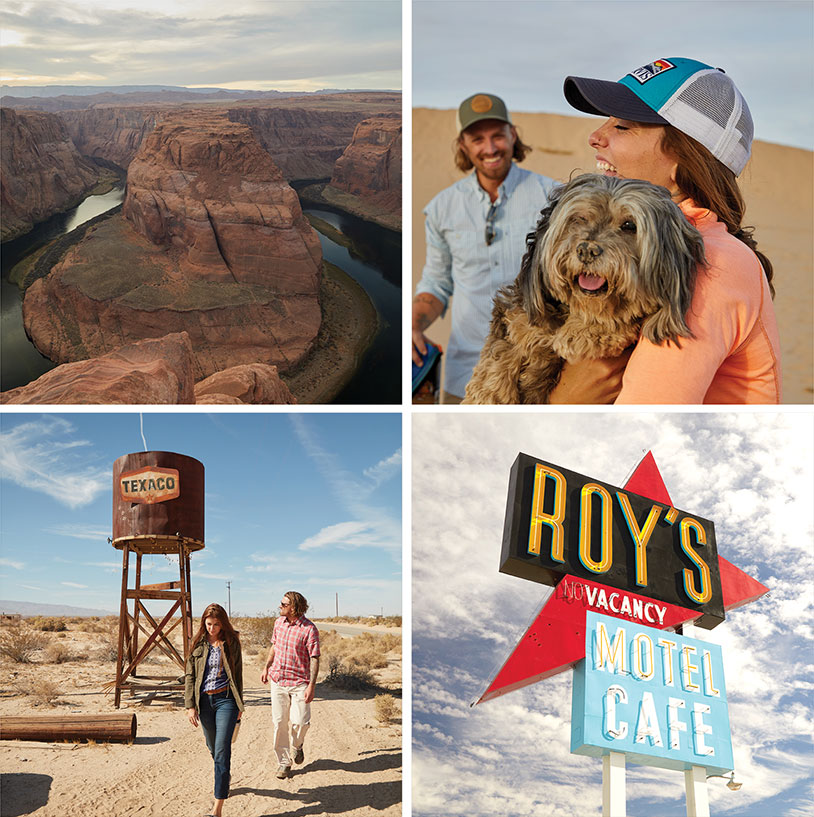 Another generous sunset. Two cold PBRs. A quiet moment to take it all in. Five full days, over 700 miles. This road trip was complete.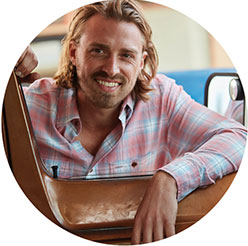 Pete Johnson
Born and raised in rural Wisconsin, Pete found his home in sunny California working as a graphic designer before going freelance and traveling the globe. His talents in art, photography, and design have taken him to Haiti, Central America, and Africa where he has helped non-profit organizations develop websites. Pete feels most alive in nature. He uses his camera to capture moments with wild animals, local people, and nature's details and his design skills to tell authentic stories from around the world. When he is not working or volunteering, he can be found exploring the outdoors, camping, fly fishing, and adventuring with Kellie and Roxy.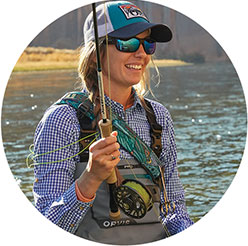 Kellie Hall
A California girl by birth and upbringing, Kellie has found no problem calling new and interesting places home. As a travel nurse, she adventures all over the United States, taking new positions every three months. Her work has taken her and Pete to Durango, CO, Gig Harbor, WA, Miami, FL, and she just began her new contract in Mammoth Mountain, CA. Kellie was raised with a passion for helping others. Her family operates a day program for adults with developmental disabilities, and Kellie started a non-profit facility for individuals with developmental disabilities in Kibera, Kenya, in 2012. She has carefully chosen a career that combines her love for helping others with the flexibility that gives her plenty of time off to pursue her passions for traveling, camping, and fly fishing with Pete and Roxy.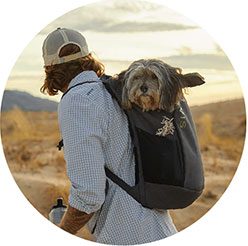 Roxy
Kellie adopted Roxy fifteen years ago at a Halloween party when somebody was looking to hand off the six-month-old fluff ball. The traveling terrier has visited more states than most Americans, hiking 14-footers in Colorado, kayaking with orcas in Northern Washington, paddleboarding ocean flats in the Florida Keys, and tromping the sand dunes in southern California. She is a road warrior and has no problem getting comfortable in the van—riding shotgun with her head out the window or snuggling up in her bed between the front seats.
Uncle Rico
Kellie and Pete adopted Uncle Rico in the summer of 2018 in Colorado Springs, CO. They were searching for an adventure mobile to complement their on-the-go lifestyle when they stumbled across an already gutted and ready-for-renovation 1976 Dodge Sportsman Camper van. It took four months to complete Uncle Rico's new look—complete with a bed, small kitchen, plank wood-paneled walls, and an artistic tile backsplash and sink from Tijuana—and he has traveled throughout the western United States since. From Utah's red desert to Arizona's national parks, from Colorado to California and up to Washington state, Pete, Kellie, and Roxy consider Uncle Rico the fourth member of their travel pack and a beloved travel companion (they also consider him an "old man with a sassy personality"). Fishing is typically Rico's destination, whether a river or the sea; but, most importantly, Uncle Rico has given Kellie and Pete a place to call home while on the road.