Choosing A New Dog Bed Liner Or Cover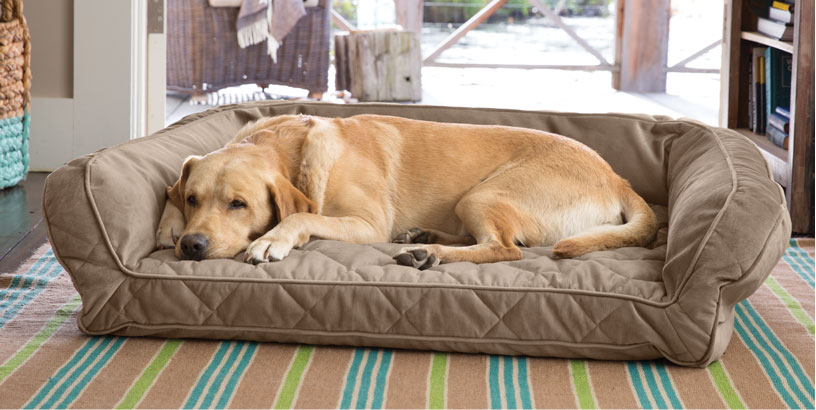 At Orvis we're smitten with the canine. We love our dogs as much as you love yours, so it should come as no surprise that we make beds for dogs of every ilk: giant dogs and lap dogs, pedigreed breeds and mutts, seniors and puppies, dogs with special needs, and all manner of dogs in the middle. However you describe your companion animal, you'll find an Orvis dog bed for him here.
Choosing the best dog bed can be daunting, but we've simplified it for you in our dog bed selector. Choosing replacement parts can be tricky, too. Every dog bed has two basic components: a liner and a cover—your Orvis dog bed comes with both. A liner is what's inside: it's the bed's stuffing, if you will. You might also call it an insert, a filler, or even a mattress. And a cover is just that: the washable, zip-off material on the outside of the bed. (We don't recommend buying any dog bed without a removable, washable cover.) These guidelines will help you choose the best dog bed liner or cover when it's time to replace them.
Dog Bed Liners: A Pillow Primer
There are two main types of liners for dog beds: pillow-style liners and orthopedic liners, which are actually more like mattresses. If you have an older or arthritic dog, choose an orthopedic liner. And even if your dog's joint health is uncompromised, she'll appreciate the luxury of an orthopedic dog bed. Other healthy dogs are just as happy to plunk down on something that looks suspiciously like a pillow, and if this describes your dog, you have decisions to make.
I. High-Lofting Polyester Fill—perfect for most dogs
It's arguably the most basic of dog beds, a big, soft pillow. Ours comes inside a breathable, non-woven fabric that is completely quiet and retains its loft. We make it in round or rectangular shapes, in varied sizes; it's meant to replace your Orvis Dog's Nest® liner. If your cover is still in great shape, a polyester fill replacement liner is an excellent way to breathe new life into an old dog bed.
II. Polystyrene Bead Fill—a great nesting bed for your "digger"
Like the polyester fill liner, our bead fill is encased in a breathable, non-woven fabric. If your dog likes to "dig in" before she settles, she'll find this liner type satisfying. It will also give her a bit of warm, comforting joint support. And it comes in variously sized round or rectangular shapes like its polyester fill cousin.
III. Cedar Fill—it's naturally insect repelling and it smells divine
Cedar contains plicatic acid, a substance that shuts down the respiratory systems of many pests. It's also moisture-wicking, which in turn helps keep smelly bacteria and mold at bay. And it has a fresh, clean scent, not unlike the smell that emerges from your cedar chest the day you take your winter sweaters out of storage. It's a nice choice for the dog who routinely brings the outside indoors with him, and its aromatic fragrance will be released every time he settles into his bed. Our high-lofting polyester fill and polystyrene bead liners each comes with or without cedar fill.
Caution: avoid cedar for your hunting dog because it will interfere with his ability to scent. And some dogs have respiratory and skin allergies, so exercise due diligence if your dog has a known cedar allergy.
IV. ToughChew—for the problem chewer
Sometimes beggars can also be chew-sers. The ToughChew high-lofting polyester fill liner—with or without cedar—is meant to replace the original ToughChew bed liner, for the chewing-est dog you love.
V. The Water-Resistant Bed Liner—for incontinent seniors and puppies
Made of nylon, the water-resistant replacement liner is made to go over your existing dog bed liner. We've put the stitching on its interior, coated the outside with polyurethane, and placed the zipper on the bottom, just in case. Use the water-resistant liner in tandem with your polyester-filled or bead-filled bed: it comes in round or rectangular shapes and multiple sizes. Accidents happen, but they needn't ruin your dog's bed.
Orthopedic Dog Beds: Soothe His Aching Bones
In the 1960s NASA developed a polyurethane cushion material it called memory foam. Initially made for the aircraft industry, it soon found its way into medical applications, the commercial sector, and finally into our own bedrooms. Memory foam is an excellent orthopedic mattress material for dogs for the same reasons it is for people: it helps maintain body temperature, reduces pressure points, supports joints and muscles, and resists dust mites and other allergens. We've engineered our memory foam dog bed liner specifically for your dog; its high density allows him to sink in just enough for optimum support. And our memory foam dog bed is all memory foam, not just a thin memory foam layer glued atop cheap conventional foam. Choose a memory foam liner for a senior or arthritic dog, or a dog with hip dysplasia or an injury. Memory foam will also minimize calluses where his joints make contact with his bed or the floor.
And Orvis is proud to offer the renowned dog bed, a memory foam bed made to the same exacting standards the top mattress brands use for people.
Dog Bed Covers: Keep The Messes On The Outside
It's your first defense against dirt and bacteria: every Orvis dog bed cover zips off easily, made to throw in the wash. Even if your dog has clean habits, having a second cover handy means you'll always have a fresh one to put on her bed on wash day.
We make replacement dog bed covers of the same quality you've come to expect of every Orvis dog bed. Many are made of upholstery-grade fabrics, in pleasing solids and patterns. If décor is important to you, choose a cover to complement it: you're sure to find it here. Tweed and herringbone, buffalo check and tattersall plaid, even elegant tapestry and waxed cotton—you'll find a visually appealing dog bed cover in our collection. And we also make replacement covers for our bolster and wraparound beds.
Your dog will love her bed cover, too. Soft, anti-static microfiber, faux fur, shearling, fleece, and corduroy—these indulgent materials welcome her into the warm and reassuring comfort of her bed.
Specialized Dog Bed Covers
Special circumstances call for specialized solutions, and Orvis has them:
The ToughChew Dog Bed Cover is constructed in two layers: sturdy 1000-denier ripstop nylon on the outside, and 840-denier nylon underneath. And the surface is sewn of soft, flocked microfiber. We defy your problem chewer to destroy it, but if he does we'll refund your money, no questions asked.
The WaterShed™ Classic Outdoor Dog Bed Cover is made for our WaterShed™ dog bed. Specially treated to prevent bacteria and mildew growth, it's sewn of a 600-denier polyester/canvas blend with UV-resistant and antimicrobial properties. And it comes in several "fetching" patterns that evoke a cheerful outdoor lifestyle.
All our dog bed covers are machine washable, and many are also personalize-able. And their tasteful colors and patterns will look pretty in your mudroom and great room alike. It's important to maintain a soft, clean, and sweet-smelling sleeping space for your companion animal; shop our dog bed Liners & Covers page to choose the best replacement parts for your dog bed.