How To Pick A Bird Dog Puppy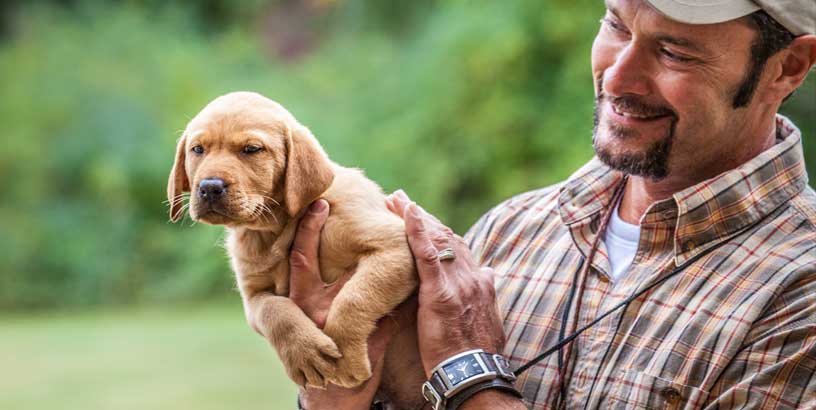 Although I spent my childhood surrounded by flushing dogs, I did not get my own birds dog puppy until I was in my early 20s. At that point, my Uncle George decided that both he and I were ready to see just what I was capable of as an amateur trainer. George, who was always a salesman, had been offered the pick of a local litter of Springer puppies from one of his hunting buddies. He'd hunted with both the sire and dam a number of times, and I'd have to guess now that he had a pretty good sense of the hunting dog bloodlines we were dealing with.
Back then, however, I just did whatever George told me to do, especially if it promised to make me a better dog trainer. George and I drove over to his buddy's home so I could pick out my dog, and when I got a look at into the whelping box, I wondered what I'd gotten myself into. 'Pick-of-the-litter' had been reduced to the only pup left, which happened to be the runt. He was a tiny little bit of a Springer with a pitiful look and a tail cropped way too short. I let George know what I thought of this sad state of affairs, but he was insistent. Not knowing what else to do, I took the puppy home, and went to work.
Over the next few years, that dog taught me most of what I know about picking a bird dog pup, and much of what I know about training a flushing dog. He never looked like much: at full-grown he tipped the scales at little more than 35 pounds, and despite my hopes, that stubby tail never got any longer. But that dog, who I named 'My Own Alex', did everything I ever asked of him. He could work the wind like a pro, and he took training like few other dogs I've ever seen. I molded him into exactly what I wanted in a close-working hunting and field trial dog, and with him I took an Amateur Championship. He gave me some great years afield and a tremendous boost of confidence, and I credit him with getting me started on a life in flushing dog training. I suppose I should credit Uncle George as well, as unbeknownst to me he'd identified the raw material with which I'd have had trouble not succeeding.
Picking a bird dog puppy among the most exciting benchmarks in the life of a hunter, dog handler, or trainer. Among the squirming number in any given litter there just might be the next National Champion, or at least a hunting companion that you'll use as a basis for comparing all other dogs past, present, or future. But as I found when I resigned myself to taking Alex, there can be a good deal of anxiety that goes along with picking a pup. After all, dogs, like people, are imperfect. There are no guarantees.
When considering a pup you will, and should, find yourself wondering how to determine which pup will hunt, which one will have the physical features you want in a dog, or which one will, in the end, prefer to lie on the couch rather than find, flush, and retrieve birds? These nagging uncertainties can rob the joy from what should be a special time in the life bird dog and owner. It is my hope in this article to make the process a bit less intimidating and a bit more fun, while allowing both owner and pup to realize as much success as possible.
Finding A Hunting Dog Breeder
Picking a pup starts with finding a proven and reputable hunting dog breeder. I am often asked for referrals on breeders, and I never hesitate to steer would-be dog owners to the breeders that I know and trust. Locating a good breeder is not terrifically difficult; look for ads in magazines such as Gundog, ask friends who own dogs that you like where they got their pups, contact the AKC for a breeder list to reference, or look at the Endorsed Breeder listings on www.orvis.com. Better still, attend some field trials or hunt tests in your area, and talk to the owners of those dogs that stand out to you. Generally, dog folks are forthcoming with info about preferred breeders, as it serves us all to see conscientious breeding and solid bloodlines continue.
Once you have a breeder in mind, don't hesitate to contact them to discuss what you are looking for in a dog. If a litter is available at the time, by all means ask to see the pedigree, and if possible, make an appointment to see the pups in person. Be sure to ask the breeder whether the sire and dam hunt, and arrange to see them both, if possible, when reviewing the litter. Though conscientious breeders will do some vetting of their own (i.e. ask you to prove that you are committed to the responsibility of perpetuating their line), they should be service-oriented and willing to answer questions. If not, pursue a different referral, and a different breeder.
Evaluating A Bird Dog Litter
Picking the right flushing-dog pup for the field boils down to one simple principle: if the bloodlines are strong, the likelihood of a pup making a good hunter is infinitely increased. In the end, this is the most predictive element of a dog's (and a trainer's) success, and one not to be overlooked. When looking at a litter, remember to be somewhat dispassionate. Though all puppies are hard to resist, don't be swayed by the 'cuteness' factor, or, on the other hand, by a relatively high price. An ounce of prevention is worth a ton of cure, and you are better served making a cool-headed decision early, and potentially spending a bit more money, to save yourself a lifetime of headaches down the line. Ask a breeder about pricing and pedigree before visiting the litter, and be an educated consumer. You will not regret your due diligence, though you might regret a hasty decision.
When evaluating a pedigree, look back at least three generations. You will hope to see multiple designations of FC (Field Champion), AFC (Amateur Field Champion), Master/Senior Hunter, etc., throughout the bloodlines on both sides. These designations indicate that there is a strong genetic history of field performance, which all but ensures that raw ability will be present in the pup. Though more commonly heard among pointing dog folks, hunters are often convinced that a dog from 'field trial stock' will run too big or be too driven for personal gundog use. I generally encourage folks to disregard this assumption, especially where flushers are concerned, maintaining that well-socialized dogs handle well in a range of situations. Similarly, do not be impressed by a CH designation, as it denotes show success, not field success. Granted, we all want a handsome dog, but a proven legacy of field performance is most important.
I cannot emphasize enough that good hunting dog breeding is absolutely critical. Within a litter of well-bred dogs the rare one will become a champion, a couple will be contenders, but ALL will typically perform. I like to say that bloodlines get you in the stadium, and from that point success relies on good training and a bit of luck.
Choosing A Bird Dog Pup
Based on what I've said above, the actual selection of an individual pup is somewhat irrelevant, if the breeding is good. I'd have never picked Alex out of a bigger litter, but he proved to be among the best dogs I've ever seen, largely because George knew that his pedigree was strong. Do not worry about indicators of drive or intelligence in a 7-week-old pup, as the breeding will ensure those characteristics. Also do not believe the myths about a pup's interest in a bird wing, or the 'soft' look in a pup's eyes. Do, however, ask to see the sire and dam, and ask the breeder thoughtful questions about them (where and what do they hunt, do they live in the house, how are they with kids, etc.). If the parents have a temperament, look, and hunting style that you like, you will have some sense of what to expect from a pup. The apple rarely falls far from the tree where dogs are concerned. Pick the puppy that calls to you, be it male or female, and be confident in your choice.
Red Flags
Be immediately cautious if the dog breeding facility, the parents, or the pups are dirty or appear poorly cared for. Be cautious too if the breeder will not let you see the sire or dam. You will want to be certain that hips and eyes have been checked and certified for a few generations, and that ALL vet and vaccination records are available to you at pickup. A conscientious breeder should also have some sort of refund/return policy in place, and it should be explicit. By the time of pick-up at seven or eight weeks, the litter should be registered with the AKC. Good breeders are quite proud of their puppies, and they should act as such. Any circumstance that gives you concern should be addressed on the spot.
Conclusion
Looking back on it now, I was tremendously lucky to have had my Uncle George looking over my shoulder when I got my first bird dog pup. Though I knew a good deal about dogs at the time, I didn't know much about the process of finding and picking a pup, and I could easily have missed the opportunity of a lifetime. As I look at pups now, I'm always excited at what might possibly be. Provided good breeding, great genetics, and a dollop of good training, a well-chosen pup can promise a lifetime of memories.