When To Travel To Montana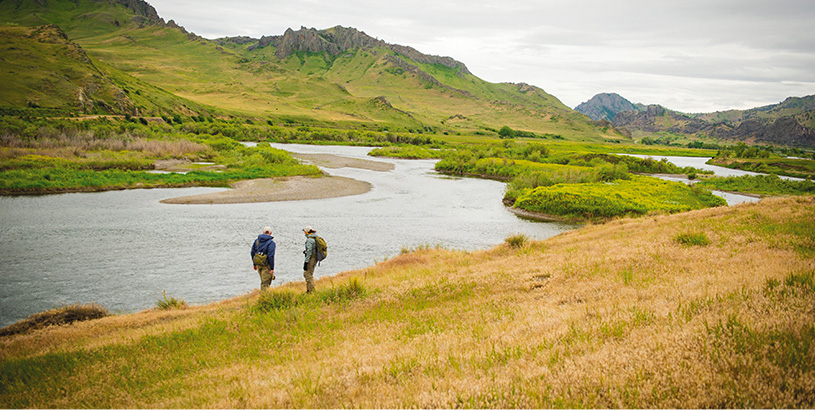 The state of Montana offers memories that will last a lifetime, no matter the season. Whether you're casting salmon flies on the Upper Madison, or working with dogs to flush Hungarian partridge along the Bighorn River, adventure abounds in Montana. So, when is the best time to travel to the 41st state? It all depends on the trip you're looking for. Here's an overview of the best time to go to Montana for fly fishing, hunting, and adventure trips.
When To Fly Fish In Montana?
Fly fishing follows Montana's change in seasons as it does in most regions, peaking from the end of winter until the middle of fall. However, due to its high mountains which hold snow late into the summer, the late spring and early summer runoff can produce high and murky water later than occurs in many other regions. When planning your fly fishing adventure to Montana, talk to an endorsed guide, or call a local fly shop to find out about water levels and when to expect the spring runoff. While it's difficult to project the exact dates for the highest spring runoff, by late winter a local Montana guide should be able to give you a reasonable estimate for that spring based on the winter's snowfall. If you're planning a quick getaway, check out the current fly fishing reports and conditions for Montana, which provide the latest information on the current state of Montana's best fly-fishing rivers.
Spring
Spring fly fishing in Montana is best before the runoff hits the main rivers. The big rivers like the lower Yellowstone and the Missouri shine in the spring (and fall) when downstream water stays colder. In a normal spring, you can expect excellent fishing through the beginning of May, with a focus on subsurface patterns. Once the spring runoff hits, the free-flowing rivers are usually blown out with high and cloudy water, leaving fishing to tailwaters (depending on controlled flow), spring creeks, and ice-free lakes and reservoirs. Many fly-fishing travelers shy away from runoff, but excellent fishing can be had on the aforementioned water.
Summer
Depending on snowpack and the drainage filling the river, runoff ends at a different time on each body of water. If you visit while some rivers are still high, your guide will use their knowledge to find the best water each day. When the runoff subsides and water levels start to drop, it's game time on Montana's rivers. You'll find prolific hatches throughout the state's world-class trout water, with dry fly fishing nearly unparalleled across the continent.
Late Summer - Fall
Hopper fishing is the name of the game on many Montana rivers from late July through early October. Once the nights get colder in late September, you'll find trophy trout fishing above Montana's reservoirs, as big browns make their way upstream to spawn.
Montana Hatches
Are you looking to live the dream of casting dry flies to sipping trout on one of Montana's wild rivers? You're not alone. A few resources will help you better plan when to visit Montana to fulfill your dry fly dreams.
The current reports page provides not only the latest water information, but also a list of what's hatching. For a broader view of hatches for Montana, the Western Trout-stream Insects hatch chart can be helpful. Do you need even more detailed local knowledge? It's hard to beat the knowledge of a local Montana guide. Remember, fly-fishing guides are as helpful in planning your trip as they are once you're on the water. Make use of their knowledge before you go, so you'll be prepared for the experience of a lifetime.
When To Hunt In Montana
Fall is the best time to visit Montana for an upland bird hunting trip. The changing leaves dot the hillsides and the prairie grasses hold grouse, partridge, and pheasant. Montana's wingshooting seasons usually begin the first week of September for grouse and partridge, and the first week of October for pheasant. Dates often vary by district, so check local regulations and talk to your guide or lodge before making travel plans.
Adventure Travel To Montana
Few places in the contiguous states compare to Montana's vast, wild lands and towering peaks. From the year-round ice along the slopes of Glacier National Park's mountains, to the geothermal attractions of Yellowstone, Montana is a state of discovery and adventure.
Each season delivers a different experience. If you're planning to tack on a visit to one of Montana's national parks with your fly-fishing or hunting trip, consider that the parks are busier than they have ever been — especially during peak summer vacations. With crowds in mind, an early summer or early fall trip will likely offer the most solitude. If you're looking for a midsummer adventure without the crowds, or simply don't feel the need for the profile of a national park, Montana offers nearly endless wilderness opportunities with scenery rivalling that of the parks. From the Chinese Wall in the Bob Marshall Wilderness, to the tarns and rocky passes of the Absaroka-Beartooth Wilderness, the adventure of a lifetime awaits in Montana.
You may also like: