Questions To Ask When Planning A Fishing Trip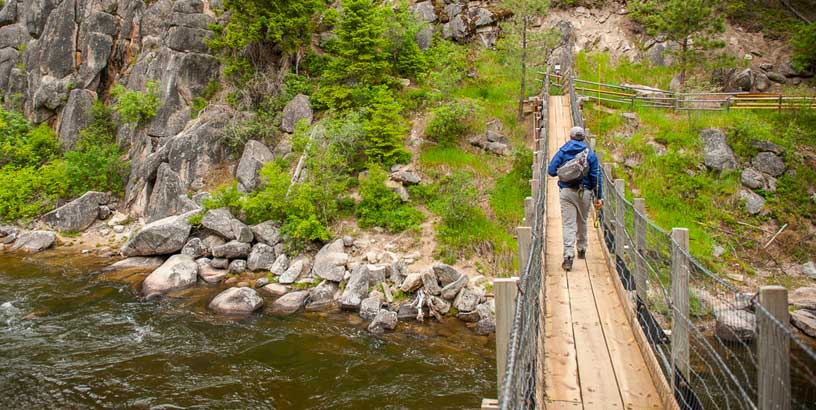 So you want to take a fly-fishing trip. Whether it's your first destination trip, or your fiftieth, you should ask yourself a few basic questions before you go. If you're a veteran, you probably already ask and answer these questions without much thought. But if you're a rookie, you'll want to ask others these questions and reflect on them yourself in order to get the most out of your fly-fishing vacation.
Where Should I Go? – Target Species And Habitat
It's probably obvious to most that before planning a fly-fishing trip you should determine which fish you'd like to target and in which region. Do you want to be casting to cruising bonefish under the sunny skies of the Bahamas, or do you want to swing colorful streamers for steelhead under a cold drizzle in the Pacific Northwest? But, you'll also want to consider if targeting wild cutthroat in high elevation lakes is more interesting to you than big browns in a big river below. Many trips will allow you to target multiple species in different environments, within a short drive. Still, it's a good idea to rank your preferences to help you decide where to plan your next fly-fishing trip.
When Should I Go? – Season
When is the best time to fly fish in Montana? When is the prime fishing season in Patagonia? When should I fish for bonefish in the Keys? There are subtleties to the fishing seasons in every location around the world. Whether it's a change in ocean currents bringing more food in-shore, or a big snow year causing runoff season to last into the summer, determining exactly when to plan your trip can be difficult.
Your best resource will be a lodge, guide, or local fly shop — though working with the first two to book your trip will most likely yield more detailed information. If you know where you'd like to plan your trip, contact a desired lodge or guide service as soon as possible. Let them know what your ideal trip would involve and ask them when you think you should plan to go. Previous bookings by other anglers will also affect which weeks will be available to you, so consider booking as early as possible based on the best information you have at the time. Often, the most accurate runoff predictions can't be made until runoff is upon the rivers, which is too late to book most trips. But indicators like a deeper than normal snowpack in the northern Rockies in February can help you estimate that you should hold off on a wading trip on the bigger rivers until later in July.
With that said, guides are committed to getting you on the most fish possible, whenever you visit. So listen to their wisdom and plan accordingly — you're sure to enjoy the experience, no matter what it brings.
How Much Can I Spend? – Budget And Travel
When looking at the overall cost of a weeklong destination fly-fishing trip, one of the biggest variables is travel. While a the cost of a week at a premium lodge in Colorado may be close to that of a premium lodge in Patagonia, one can fly from New York to Denver for $300, but flights to Santiago from New York will easily top $2000. Deals can be found on flights to many areas — just remember that when flying to smaller, more remote airports, often the earlier you book your flight, the cheaper it will be. Want to find the best flight deals to small airport? Ask a local — that is, your guide or lodge operator.
What Should I Bring? – Gear
Once you've figured out where you're going, when you're going, and how you're getting there, you'll have enough information to begin considering what to bring. By knowing which species you'll be targeting and on what water, you'll know which rods to bring; if you'll need floating line, sinking line, or both; warm weather or cold weather clothing; which flies; and how to pack your gear, like wading boots and rods.
Quick Tip: Most US domestic flights allow you to carry on your rod tube as long as it's not too long (4 piece tubes should all be fine). When boarding, ask your flight attendant if you can store your rod tube in their closet (usually at the front of the plane), in case the overhead compartments are too narrow or overfilled. Just remember it's in the closet when you're deboarding!